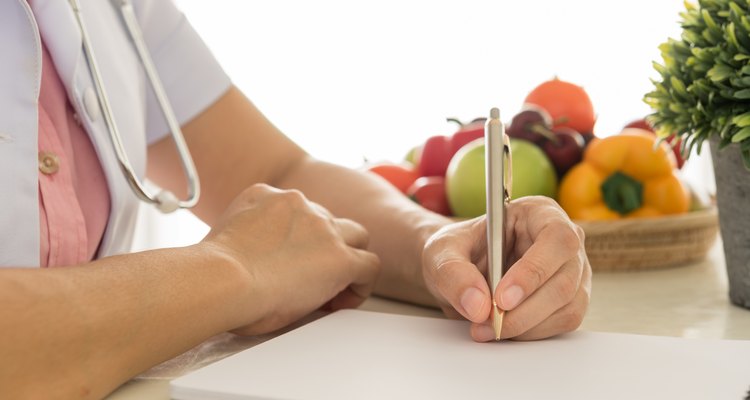 utah778/iStock/Getty Images
Nutritionists assist the public to understand the nutritional value of foods. They may be employed in a variety of settings. In the state of California, a nutritionist is formally referred to as a dietitian. In addition to certain educational requirements, a potential nutritionist must complete other professional criteria to become recognized as a nutritionist or dietitian.
Obtain a Bachelor's degree in a food-related study or nutrition from a nationally accredited institution. Qualifying degrees include coursework that covers the following disciplines: biology, biochemistry, diet therapy, food service or food service management, microbiology, nutrition, physiology and psychology. It can be helpful for you to determine what type of setting you wish to work as some programs provide targeted training for specific settings.
Complete a practicum that encompasses supervised training. The required number of practicum hours may vary slightly by program. However, the practicum is very important, because it provides opportunities to apply the concepts learned in the educational setting to real-life practical situations.
Pass a national competency examination and provide confirmation of a passing score. According to the Commission on Dietetic Registration (CDR), California is one of the less restrictive states in terms of requirements for nutritionists. California does not require nutritionists to obtain a license to work as or identify themselves as a nutritionist.
Be prepared to show proof regarding your degree and competency exam scores when looking for a job. Although a formal license is not required, potential employers will still need some type of confirmation of your skills and abilities.
Writer Bio
Shemiah Williams has been writing for various websites since 2009 and also writes for "Parle Magazine." She holds a bachelor's degree in business and technology and a master's degree in clinical psychology. Williams serves as a subject matter expert in many areas of health, relationships and professional development.
Photo Credits
utah778/iStock/Getty Images