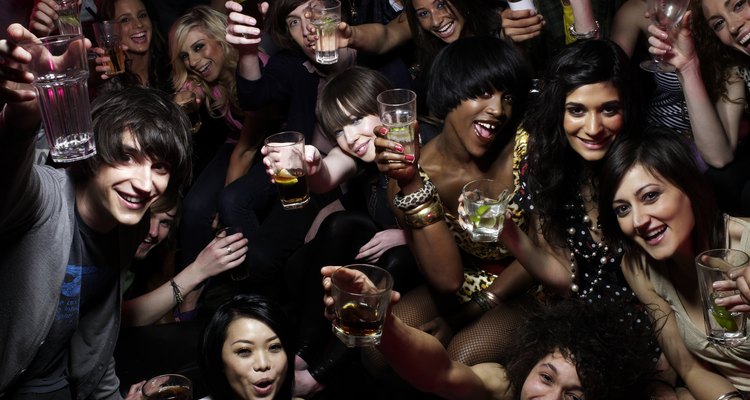 Michael Blann/Lifesize/Getty Images
A pub crawl is an organized event in which a group of people visit multiple bars in one night. Pub crawls can be arranged by coalitions of venues, charities or other organizations. In order to form a pub crawl to raise money for an organization, gather as many participants as possible. Make it clear that the event is only open to those who are of legal drinking age. Hold the event in an area where there are many venues within a safe walking distance and ask volunteers to serve as designated drivers.
Organization
Choose your venues. Contact the bar owners via email or stop by during the day during slow hours to request their participation in the pub crawl. Their participation should include free entrance and designated pub crawl drink specials. For bars that feature stages and PA systems, ask if a volunteer may make announcements or perform activities related to the organization onstage.
Sell tickets in advance. Reasonable ticket prices range from $10 to $40 depending on the size of the event. Those who are tech-savvy may set up a website to accept payments online. You can also ask the participating venues or other local businesses to help advertise and sell tickets for the event.
Provide necessary information. Each person who purchases a ticket should receive a flyer that states the event specifics. Include the date, time and a list of participating venues. Also include information about the cause for which you are raising money. You may provide helpful planning information such as numbers for local hotels or taxi services.
Designate a meeting place. On the night of the event, set up a booth at the first bar where participants will check in. Check IDs, take tickets and give out wristbands. The wristbands will identify individuals as participants and grant them access to all of the pub crawl activities.
Additional Ideas
Make it a theme party. Dressing up can create a unique event that stands out from other bar-hopping outings. Fun themes include 1980s, luau, toga and pajama parties.
Sell raffle tickets. You can sell these in advance, at the check-in booth or both. Collect genuine or funny prizes to raffle off throughout the evening. Announce winners at the bars that granted you permission to use their stages.
Make it a contest. This requires lots of cooperation from the venues. Hold beerfest-style games at each bar. Pub crawlers are not required to participate, but if they wish to do so, they must contribute a small entrance fee or donation to a pot. The winner of each game gets to take home a portion of the money collected, and the rest goes to your organization.
References
Writer Bio
Alison Datko is a professional editor with experience as a journalist, writer and blogger. She contributes to a variety of print and online publications, specializing in music, food, art, fashion and culture.
Photo Credits
Michael Blann/Lifesize/Getty Images