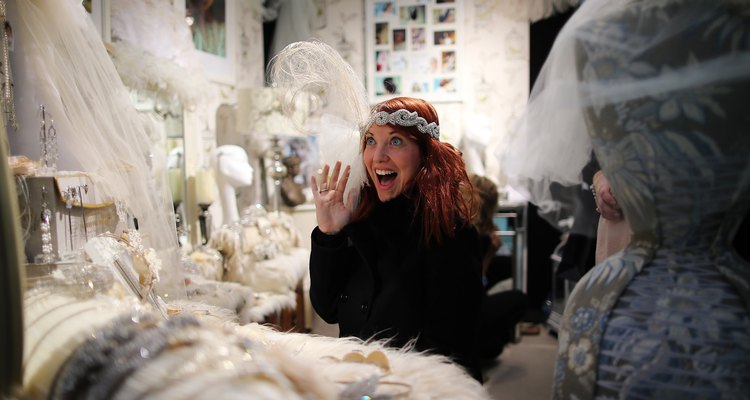 Dan Kitwood/Getty Images News/Getty Images
Wedding fairs benefit both brides-to-be and potential wedding vendors by connecting them in a fun, festive face-to-face event. However, organizing the wedding fair can be a tedious, stressful affair. Make it easier on yourself by enlisting a support staff -- whether paid or volunteer -- and starting early so you have plenty of time to plan the event.
Figure Out the Details
Choose a date to host your venue that's in the off-season -- which will vary, depending on where you're located -- and on a Sunday. This ensures that the majority of vendors will be available to showcase at your fair. Select a price for tickets, taking into account how many vendors are available for attendees to talk to, whether food and drinks are included in the ticket cost, and if major prizes are being raffled -- aim for approximately $10 to $15, a suggested fee at the time of publication, per attendee. Set up a website and online registration form that makes it easy for attendees to peruse details and purchase tickets.
Solicit a Venue and Vendors
An established wedding venue might jump at the chance to host your wedding fair, given that it will bring in a multitude of potential clients to view the space. However, the venue's coordinators might also ask you to refrain from inviting other venue representatives to showcase at the fair. If you are willing to compromise, ask the venue to sponsor the event and offer additional perks such as a discounted rate on catering the event, tastes of Champagne for the attendees and a prize, such as a night in the honeymoon suite, to raffle off. If you would prefer to host multiple venues as vendors, look for a community hall or meeting room to host the wedding fair. Overall, find a space that allows for multiple booths to be set up with a clear walking path and plenty of seating for weary brides and family members to take a rest. Invite additional wedding vendors -- including florists, photographers, bridal salons and boutiques, transportation services, stationers and travel agencies -- to purchase booth space at your show. Ask them to donate raffle prizes for a discounted booth rate. Consider limiting each category of vendors to three companies so the vendors feel as if they have exclusive access to the brides attending the fair.
Add Incentive to Attend
Attendees will be more likely to purchase tickets to your wedding fair if extras are included, such as a free glass of Champagne, raffle prizes and vendor demonstrations. Potential prizes include a gift certificate for a bridal bouquet, a wedding band, clothing inscribed with the word "bride" or "just married" and, for the grand prize, a honeymoon trip. Offer entertainment other than just visiting with vendors by asking a local DJ to emcee the event and play background music, host a fashion show with wedding gowns and bridesmaid dresses or ask vendors to host demonstrations, such as a salon showcasing a bridal up-do, or a florist showing how to arrange a centerpiece.
Publicize the Event
No one will attend your event if they don't know about it. Set up a website and social media accounts the moment you have the details nailed down. Consider buying advertising on social media networks or local media outlets, particularly in a local wedding magazine or on the radio. Approximately six weeks before the event, send out a press release that details how many vendors will be in attendance, any raffles or prize giveaways, and the number of brides and other attendees you expect. Follow up with the media outlets you sent it to two weeks before the event. Invite a camera crew from the local news station to shoot footage at the event.
References
Writer Bio
Kelsey Casselbury is a freelance writer and editor based in central Maryland. Not only a freelance writer, editor, and designer, she is also a mom of a preschooler, a volunteer for two nonprofit organizations, and an avid reader, cook, and piano player. She has a bachelor's degree in journalism from The Pennsylvania State University.
Photo Credits
Dan Kitwood/Getty Images News/Getty Images