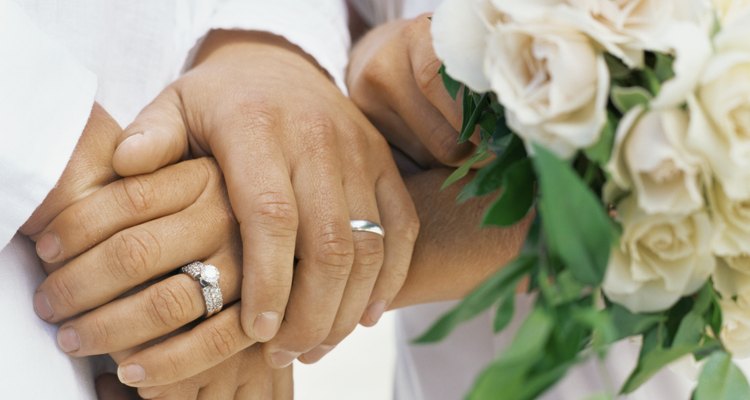 Stockbyte/Stockbyte/Getty Images
Mormons are married during a traditional sealing ceremony, where the priesthood holder seals the couple together for all eternity. Non-members are not allowed to witness the marriage and often wait outside in the lobby to support the happy couple. Although the wedding is a joyous occasion, the exclusion of some family members and friends often causes heartache and turmoil. The Mormon ring ceremony is a modern solution that allows the Mormon couple to share their wedding day with all family members and friends, while keeping with religious guidelines.
Choose a location to hold the ring ceremony. According to Mormon doctrine, the ceremony must take place outside of the temple. Hold the ceremony in a large backyard garden for an intimate celebration with close family and friends or a country club for a larger gathering.
Send out the invitations. Invite non-Mormon family members and close friends to wait outside the sanctuary in the temple lobby during the sealing ceremony for support. Specify that the actual wedding will be held prior to the ring ceremony, but there will be a set program to celebrate the marriage and exchange the rings. Include a pamphlet about the sealing ceremony significance inside of the invitations. Combine the ring ceremony with the reception to cut down on costs.
Decide on the program. On average, the ring ceremony lasts between 10 to 20 minutes, and begins with an opening prayer. The rest of the schedule is up to you. Ask family members and friends to act as groomsmen and bridesmaids for support. Have the bishop discuss the sealing ceremony that has already occurred. Allow your father to read scripture about marriage, while another relative provides a musical addition. This also provides a platform to discuss the importance of the sealing ceremony and share your faith with non-Mormon guests. If you are combining the ceremony with the reception, decide on whether you want to open the reception with the exchanging of the rings or have a break between other reception events.
Exchange the rings. It is imperative to remember that the ring exchange cannot reflect the sealing ceremony in any way. The happy couple should exchange affections and reflections before exchanging rings. A prayer closes the ceremony. Spend time writing what you want to say to your spouse before the ceremony. Don't feel pressured by structure; this part of your wedding day can unfold however you and your spouse see fit.
References
"The Sisterhood"; Dorothy Allred Solomon; 2008
Writer Bio
Jessica Davis has been a professional writer since 2005. She has worked in various media outlets, writing for a bricklaying trade publication, several research companies and her favorite: a major entertainment company in Washington where she produced scripts and online content. Davis earned a bachelor's degree in print journalism.
Photo Credits
Stockbyte/Stockbyte/Getty Images