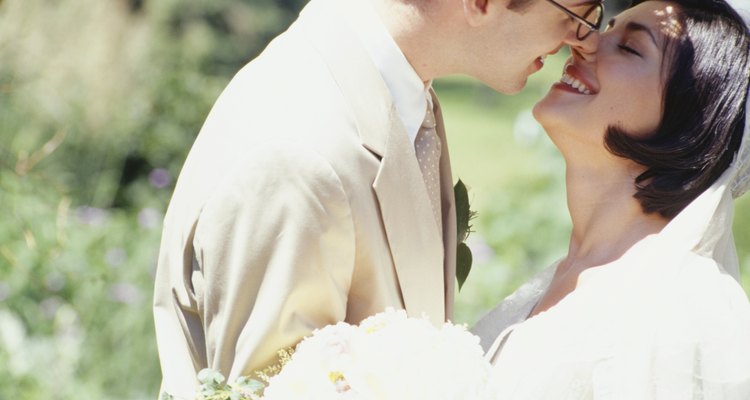 Buccina Studios/Photodisc/Getty Images
Covenants are sacred contracts with God. A covenant marriage ceremony embraces vows of unconditional acceptance and lasting until death. A covenant marriage ceremony is a worship service that mirrors a time-honored religious wedding, but with traditions, words, music and vows that emphasize the solemn pact you make to each other, God and your witnesses. It can take place in any setting, as long as God's involvement is recognized.
Determine Ceremony Elements
Share your desire to highlight the covenant aspect of your wedding with your pastor or priest, who will offer suggestions on covenant-related scripture passages such as Ephesians 5: 21-33, and hymns such as "When Love Is Found" to personalize your ceremony.
Ask your officiant to highlight the significance of your covenant in his address or homily, and the prayers recited.
Get your officiant's recommendations and decide on the order of service. Some denominations follow a set format that may include symbolic actions such as lighting a unity candle, performing the salt covenant, whereby the both of you symbolically pour salt into one container as a sign of loyalty, or breaking a glass to acknowledge that your vows, like broken glass, cannot be reversed.
Set the date and reserve the setting. Then proceed with planning as you would a traditional wedding: set a budget, choose a florist and color scheme, and designate members of your bridal party.
Adopt Symbolic Traditions
Select your wedding attire with covenant symbolism in mind. A bride desiring a covenant marriage ceremony shuns fashion trends that call for a non-white gown. Walking down the aisle in a white dress symbolizes Christ's goodness and your belief that your sins are forgiven through his death on the cross.
Wear a veil instead of a decorative headpiece. In a covenant wedding, the groom lifts his bride's veil to symbolize the removal of the temple veil that enabled an intimate relationship with Christ, and the new intimacy shared as husband and wife.
Pick the reception venue, caterer and baker for your wedding cake. Hosting a reception follows the biblical tradition of covenant meals. Serving each other wedding cake symbolizes the two of you becoming one.
Plan Your Vows
Decide whether to exchange the traditional vows of your faith, or write your own. A covenant marriage ceremony revolves around the sacred vows you make with God and each other to become husband and wife.
Confirm that your covenant vows express exclusivity, as in "I take you to be my wedded wife/husband…"; totality as in "to have and to hold"; and permanency as in "until death do us part." Vows should also recognize the sacredness of the proceedings, as in "according to God's holy law" and affirm your promise with something along the lines of "this is my solemn pledge."
Review your chosen vows with your officiant. Give the officiant copies of your own written vows for the ceremony.
References
Writer Bio
Trudy Brunot began writing in 1992. Her work has appeared in "Quarterly," "Pennsylvania Health & You," "Constructor" and the "Tribune-Review" newspaper. Her domestic and international experience includes human resources, advertising, marketing, product and retail management positions. She holds a master's degree in international business administration from the University of South Carolina.
Photo Credits
Buccina Studios/Photodisc/Getty Images