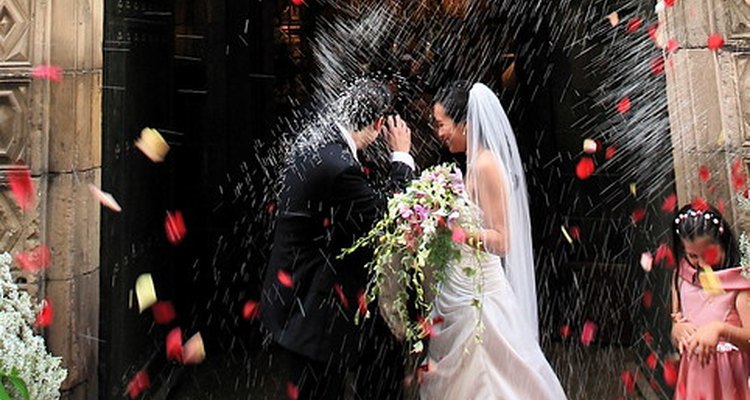 Image by Flickr.com, courtesy of Steve Jurvetson
Anyone can have a wedding ceremony without obtaining a marriage license, but you cannot legally marry in the United States without a license. Some people, such as gay couples who are not able to legally marry, hold ceremonies, but U.S. law will not recognize the marriage.
Wedding vs. Marriage
A wedding is a ceremony typically held to publicly recognize a marriage. You do not need to have a wedding ceremony to be legally married, and you do not have to be legally married to have a wedding ceremony. If you do not obtain a marriage license, you can still have a ceremony, but it will not have any bearing on your legal status as a couple.
Marriage Laws
In the United States, all states require a marriage license. Requirements such as age, waiting period and blood testing vary from state to state, but if you do not obtain this license prior to your wedding, the marriage will not be legal.
Officiant
Legal wedding ceremonies must use officiants who have the authority under their state to perform ceremonies. In most states, the person performing the ceremony will sign the marriage license following the wedding to finalize the legal marriage process. If you do not obtain a license, you can choose anyone to conduct a ceremony, but the marriage will not be legal.
Commitment Ceremonies
A commitment ceremony usually takes place between a gay or lesbian couple unable to legally marry in the United States. These ceremonies are often similar to traditional weddings; however, the couples are not able to obtain marriage licenses.
International Weddings
Even if you are married abroad, you will need some type of license to validate the marriage, especially if you want it to be legal in the United States. Most international destinations have their own licensing requirements.
References
Writer Bio
Aja Dorsey Jackson is a writer and marketing consultant. She is class news editor of "Garrison Forest Magazine," has written for several Baltimore-based publications and is author of a blog. She holds a bachelor's degree in mass communications from Towson University.
Photo Credits
Image by Flickr.com, courtesy of Steve Jurvetson