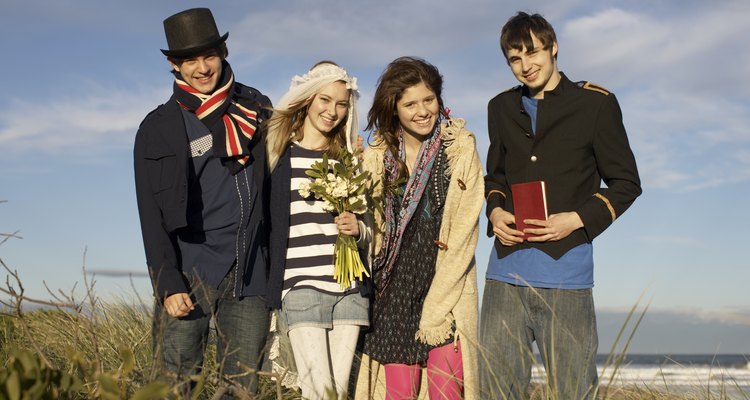 Bec Parsons/Digital Vision/Getty Images
Rules for becoming a nonreligious wedding officiant vary according to jurisdiction. Most states, counties and cities allow a variety of nonreligious officiants, such as county officials or local office holders, to perform weddings. Some states allow individuals to apply for special, interim authority to marry couples. Many states and counties allow a friend or family member to legally officiate at a wedding with the presence of an authorized person. Always check the specific laws in the area where the marriage will take place.
Research the marriage laws of your state. Many states have no specific provisions for authorizing nonreligious wedding officiants. Contact the appropriate department in your state, city or county where marriage certificates are filed and ask if there is a procedure for authorizing nonreligious wedding officiants to perform marriages.
Contact the office of the county clerk or the city marriage bureau in the area where the marriage will take place. Ask if you are already qualified to officiate. Many jurisdictions have lists of civil officials who are legally authorized to perform weddings. In many areas, a wide variety of different government officials and civil employees can perform marriages with no special authorization. New York and New Jersey state laws for example, say that "various government officials" are automatically authorized to officiate at weddings.
Apply for certification to perform marriages as a nonreligious officiant if your county or state allows it. California allows any person to apply for temporary authority as a "deputy commissioner of marriages" to officiate at a single wedding without religious credentials or affiliation. Alaska, Massachusetts and some counties in Virginia also offer this option.
Ask an authorized person to perform the wedding ceremony with you. Find a nonreligious, authorized officiant to assist you in conducting the wedding ceremony. In many states, this will be enough for the ceremony to be legally recognized.
References
Writer Bio
Rebecca Sims is a librarian and educator, specializing in law, health sciences and education. She teaches classes in legal research, information technology, patient education, cataloging and digital asset management. Sims holds a Bachelor of Arts from the Academy of Art College and a Masters in library and information science.
Photo Credits
Bec Parsons/Digital Vision/Getty Images