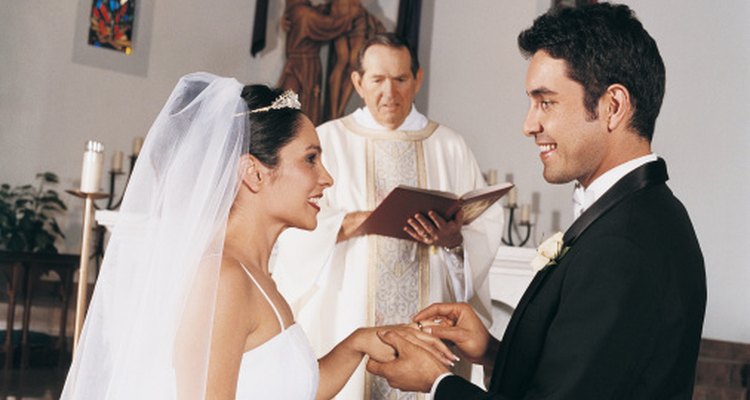 Digital Vision./Digital Vision/Getty Images
Each state has its own laws regarding who can and cannot perform a wedding ceremony. Some states allow a notary public to conduct ceremonies, however, in Texas a notary does not have the power to legally perform marriages. Laws in Texas also require the person conducting the wedding ceremony to turn in the completed marriage license within 30 days of the marriage.
Judges
Judges in the state of Texas, including those who have retired, can legally perform marriage ceremonies. These type of wedding ceremonies can be at a venue of choice, in the judges quarters or home, or another location agreed upon by all parties. Examples of judges who can perform wedding ceremonies include Justice of Supreme Court, Judge of the District Court, Justice of the Peace, Judge of the Courts of Domestic Relations and Judge of the Juvenile Courts.
Ministers and Priests
Ministers and priests who are ordained with a Christian church can legally perform a wedding ceremony in Texas. These types of ceremonies generally take place in a church, but can also take place in a garden or other location selected by the bride and groom.
Jewish Rabbis
Jewish Rabbis can perform a wedding ceremony in the state of Texas. Couples can have a traditional Jewish wedding performed by a Rabbi at their location of choice. Please note that some Rabbis will not conduct a wedding ceremony if one of the couple is not Jewish.
Religious Officers
Officers of religious organizations are allowed to perform wedding ceremonies in Texas. These officers must be authorized by the organization to legally perform the ceremony. Religious organizations can include those associated with churches, mosques, temples or synagogues.
References
Writer Bio
Heather Leigh Landon has been a writer since 1988 when she started her career as a stringer for "The McHenry Star News." Since then she has worked for newspapers such as "The Woodstock Independent," "The Northwest Herald" and "Press Journal." Landon graduated from William Rainey Harper College with an Associate of Applied Science in journalism.
Photo Credits
Digital Vision./Digital Vision/Getty Images