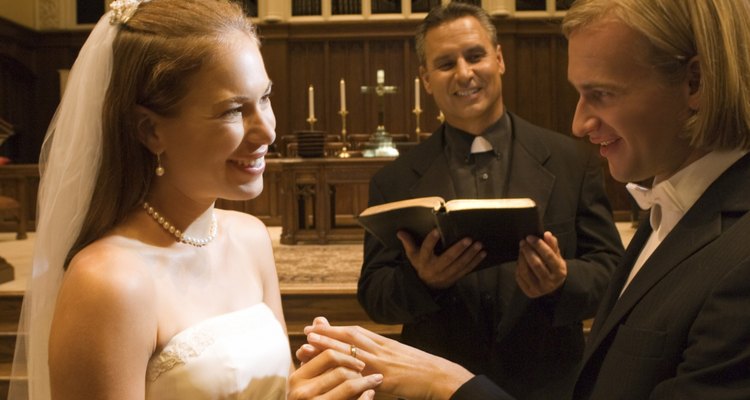 Jupiterimages/Comstock/Getty Images
While some couples choose to get married in their church by an ordained minister, others want to be married by someone else. However, not just anyone can perform a marriage; a person must first qualify to perform marriages. The requirements that dictate who is legally qualified to marry a couple differs in each state. In Indiana, there is a list of ways in which a person may become legally qualified to perform weddings.
Become a member of the clergy in any religious affiliation. You do not need to perform clergy duties at any particular church; you must only be ordained as a member of the clergy. Each religious affiliation has its own requirements to become a member of the clergy. Different religious affiliations also have varying rules on how and when a clergy member can perform a marriage.
Acquire the job of a judge. If you have a law degree and have been practicing, you may be able to run for a judicial position. City and town judges are elected to four-year terms and county judges are elected to six-year terms. Several Indiana counties place judges through governor appointment. Judges in Indiana are legally qualified to perform marriages within the state.
Run for mayor of any Indiana city or town. If you are the mayor of an Indiana city or town, you are legally qualified to perform marriages in the county in which you are mayor.
Become clerk or clerk-treasurer of an Indiana county or a clerk of an Indiana circuit court. Clerks of court are legally qualified to perform marriages. In most cases, you will need to run for one of these positions during an election.
References
Tips
Contact the local clerk of circuit courts if you are ordained in a different state to inquire whether exceptions can be made.
Writer Bio
Kimberly Turtenwald began writing professionally in 2000. She has written content for various websites, including Lights 2 You, Online Consultation, Corpus Personal Injury and more. Turtenwald studied editing and publishing at Wisconsin Lutheran College.
Photo Credits
Jupiterimages/Comstock/Getty Images