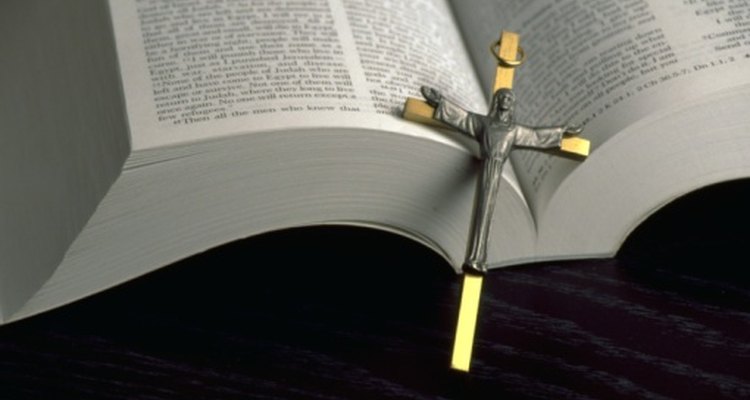 Jupiterimages/Photos.com/Getty Images
Counseling comes in several forms. Many associate the idea of a counseling license with the mental health profession and the state regulations that govern it. Christian counselors affiliated with a church or ordained ministry can offer advice and spiritual support to people of their faith seeking help. Neither Florida or federal law require licensing of Christian counselors so long as they confine their practice to religious and spiritual domains. Several private organizations now offer their own "licensing" and certifications to provide training and develop standards.
Review your accreditation options. Several private Christian organizations offer Christian counseling licenses in Florida including the Florida Association of Christian Counselors and Therapists, the National Christian Counseling Association and the Professional Academy of Christian Coaching and Counseling. Each has a certification and licensing program with its own theological perspective.
Enroll in the training program of your choice. Courses range from several months to multiple years depending on the organization and track you select. All Christian counseling certification and licensing programs are private and require tuition and fees. Some churches and religious organizations give scholarships and financial support for those wanting to become Christian counselors.
Take the license examinations required for the licensing organization you choose. Because there are no state or national standards for licensing, you will need to get exam outlines and study materials through your organization. You may want to get a licensed counselor or pastor to help you study.
Submit your out-of-state credentials to the Florida Association of Christian Counselors and Therapists (FACCT) if you want their licensing by endorsement. The FACCT does not require Christian counselors to retrain if they have equivalent education. A license by endorsement application along with fees will suffice. National Christian Counseling Association licenses, as the name implies, are considered national and need no endorsement.
References
Writer Bio
Eric Feigenbaum started his career in print journalism, becoming editor-in-chief of "The Daily" of the University of Washington during college and afterward working at two major newspapers. He later did many print and Web projects including re-brandings for major companies and catalog production.
Photo Credits
Jupiterimages/Photos.com/Getty Images