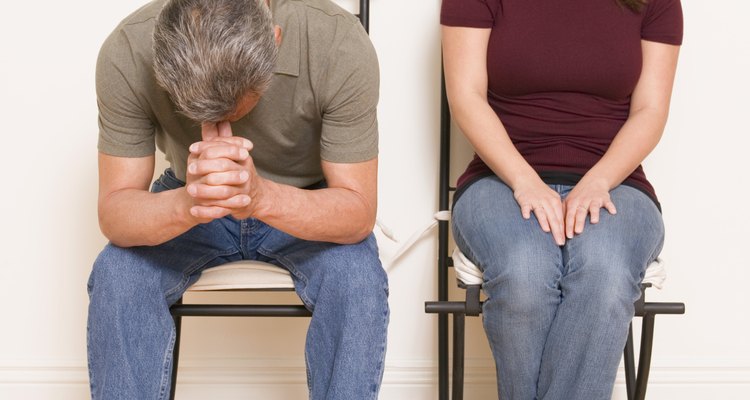 Jupiterimages/Creatas/Getty Images
You and your spouse have decided that it's time to seek professional help to get your relationship back on track. The best way to find a counselor you both can work with is to interview two to three practitioners and choose the one who best meets your needs. After obtaining some preliminary information from each one, you will know which therapists you might want to make appointments with in order to get a better sense of their compatibility with you. By asking the same questions of all counselors, you will have a good basis for comparison and can make an informed choice.
Step 1
Call the counselors on the phone, and ask each one about the technical aspects of their practice. Ask about fees, whether or not they offer a sliding scale, length and frequency of sessions, policies regarding canceling sessions and the therapist's willingness to accept payment from insurance companies. Use the answers to these questions to filter out therapists who do not suit your needs and budget.
Step 2
Ask each counselor about his or her training and qualifications in marital therapy. There are no laws preventing unqualified people from offering their services to couples. Being a coach, or even a psychotherapist, does not qualify one to conduct marital therapy. Before you make an appointment, make sure that the therapist has a license to practice marriage counseling.
Step 3
Find out how long the counselor has been practicing marital therapy and what proportion of the clientele are couples. It takes time to develop the expertise required to help couples. If the therapist is relatively inexperienced, ask if he or she is receiving supervision; in this case, the therapist will have input from a more senior practitioner that can outweigh some of the disadvantages of the therapist's inexperience.
Step 4
Make appointments with therapists whose answers to the vetting questions were satisfactory. Ask them to briefly describe their approaches to marital therapy and their views of divorce. William J. Doherty, author of "Take Back Your Marriage," warns that some therapists too easily support separation and divorce; you want to find a therapist who will work with you to improve your marriage and stay together.
Step 5
Pay attention to the therapist's behavior and language. The single most important factor contributing to the success of counseling is the therapist-client relationship; you should leave the first session feeling validated and understood. An effective couples counselor treats both partners with respect, actively listens to their explanations and balances the session so that neither partner feels left out. The therapist should not offer solutions at this early stage, or predict any kind of outcome for the therapy beyond promising to help you to the best of his or her ability.
References
Tips
Continue to monitor your satisfaction with the counselor at all stages of therapy. If you have any questions about the therapist's approach or interventions, do not hesitate to raise them during sessions.
Warnings
In the 2010 article "Infidelity Secrets in Couple Therapy," different therapists report that they handle secrets differently; you should be aware of the therapist's views on secrecy beforehand. If you are keeping a secret from your spouse, you may want to inquire privately about the therapist's attitude toward secrets before beginning therapy.
Writer Bio
With an Master of Science in marital and family therapy, Sheri Oz ran a private clinical practice for almost 30 years. Based on her clinical work, she has published a book and many professional articles and book chapters. She has also traveled extensively around the world and has volunteered in her field in China and South Sudan.
Photo Credits
Jupiterimages/Creatas/Getty Images