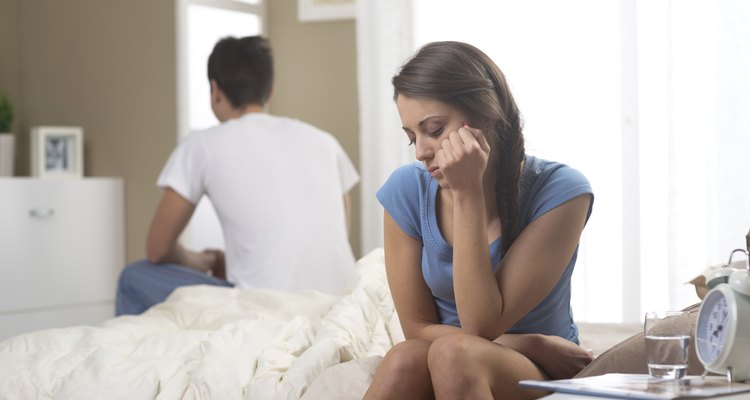 cyano66/iStock/Getty Images
Many women feel a sense of relief after leaving a troubled marriage, but they also need to seek support to prepare for the consequences of divorce. While the end of a marriage can be traumatic, women can make choices that help them thrive. Seeking assistance before, during and after a divorce provides many benefits, and some of this assistance is free or low-cost.
Types
As you go through a divorce, assistance is available in several areas, including emotional counseling, financial help, and legal advice. Emotional support is particularly important, as the U.S. Surgeon General notes that 30 to 40 percent of people who go through a divorce experience symptoms of anxiety and depression. Financial assistance helps you understand the implications of and cope with managing a single-parent household. Job training assistance might be necessary if you are entering the workforce for the first time, or re-entering it after an absence. Obtaining legal advice during a divorce is often crucial.
Timing
It is often to your benefit to seek assistance as soon as you begin thinking about divorce. Counseling and divorce-support groups help you manage the emotional ups and downs that occur throughout the process, from beginning to end. Seeking legal assistance early helps you understand the divorce process and what you can expect in court. Regardless of whether you manage the finances in your household, seeking financial advice early can help you understand how single life or single parenthood will affect your finances and the types of assistance you might need.
Sources
You can access divorce assistance anonymously through the Internet, in the protective comfort of group sessions, or one-on-one through a variety of sources. Reputable divorce information websites provide assistance with a range of topics, such as deciding whether to divorce or attempt to save your marriage, clarifying state divorce laws and processes, and managing situations as diverse as grandparents' rights and tax issues post-divorce.
Divorce support groups provide information on the practical and emotional aspects of divorce, and can direct you to other sources of assistance based on members' previous experience, saving you time and energy. Emotional support can come from self-help books or one-on-one from religious leaders or trained counselors.
Cost
Free and low-cost programs are available for most areas of divorce support. Financial support is available from the state and federal government based on your income, and includes food vouchers and rent assistance. The Modern Woman's Divorce Guide notes that both private and government resources provide free or low-cost legal advice and representation. Many counselors have fee structures based on income, and many religious leaders do not charge for counseling sessions.
Children
Children can suffer emotionally and physically from divorce, and need parental support to cope. Find assistance programs such as the Children in the Middle Program, which helps parents and children develop the skills needed to handle how a child reacts to divorce.
References
Photo Credits
cyano66/iStock/Getty Images