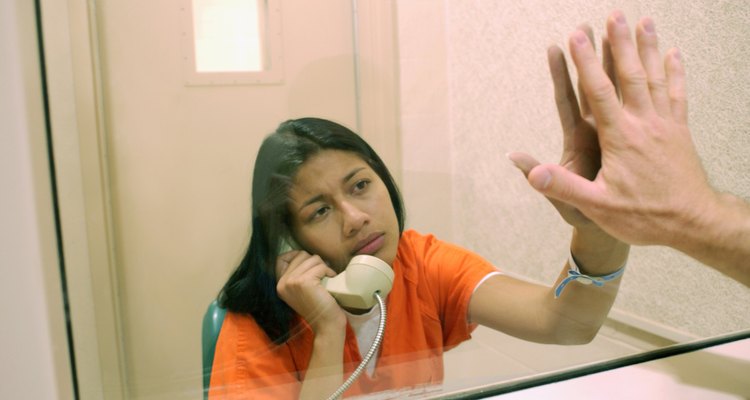 Thinkstock Images/Stockbyte/Getty Images
When your mate ends up in prison, you must come to terms with a world that has suddenly turned upside down. Although the emotional strain is huge and coping is difficult, a prison term doesn't mean that you should suffer or be cut off from your spouse.
Take care of yourself and practice staying positive, recommends Prison Families of New York Inc. Maintain your regular routine as much as possible. Eat well, exercise and get plenty of sleep.
Confide in somebody you trust, such as a friend, family member or pastor. Don't keep your emotions bottled up inside and remember that feelings of loneliness, disappointment, fear, shame and anger are normal. Join a support group for prison families or participate in online groups or organizations. However, tell friends and family members only as much -- or as little -- as you're comfortable with.
Gather information about the facility where your spouse is incarcerated. Talk to prison officials and learn the rules and regulations about visiting hours, phone calls and mail. Departments of Correction in many states provide family guides that help spouses navigate the system.
Talk to trusted counselors, teachers or coaches at your child's school. If they are aware of the situation, they can be your child's ally and watch for signs of trouble. Pew Charitable Trusts report that children with a parent in prison have more difficulty in school than those without an incarcerated parent, including increased aggression and a higher incidence of suspension.
Set limits with your incarcerated spouse and stick to them, advises Assisting Families of Inmates Inc. While it's important to remain in contact with your spouse, phone calls and visits, which require time and money, can become overwhelming.
Include your incarcerated spouse in your children's lives. According to The Oregon Department of Human Services, regular visits are important for the well-being of children and parents. Encourage your children to write cards and letters and to call or visit as often as possible. Share school papers, report cards and news about daily events and activities.
Have fun and enjoy life. It may be difficult at first, but laughter will help take your mind off your problems, at least for a while. Spend time with friends and family. Play games, go for walks or watch a movie.
References
Writer Bio
M.H. Dyer began her writing career as a staff writer at a community newspaper and is now a full-time commercial writer. She writes about a variety of topics, with a focus on sustainable, pesticide- and herbicide-free gardening. She is an Oregon State University Master Gardener and Master Naturalist and holds a Master of Fine Arts in creative nonfiction writing.
Photo Credits
Thinkstock Images/Stockbyte/Getty Images