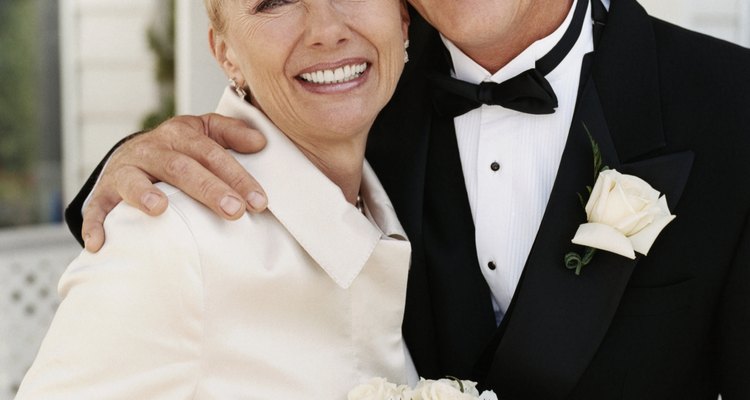 Digital Vision./Digital Vision/Getty Images
Couples renew their wedding vows for many reasons. Perhaps they got married in a small destination wedding and want to make their marriage public upon their return. Some couples decide to renew their vows after marrying in a hasty ceremony before military deployment or after the discovery of a pregnancy. Whatever their reasoning, your ability to officiate a vow renewal can allow them to have the wedding they always wanted, even if years have passed since the first time they said, "I do."
Ensure that you are qualified to provide the couple with the type of ceremony they want. Wedding renewals can take two forms. The first is a vow renewal, which is a nonbinding ceremony that reaffirms the marriage vows between two people. This type of service does not need to be officiated by an ordained or legally permitted officiant. The second is known as convalidation, which is a marriage ceremony that, though not a legal contract, is religiously binding. This takes place after the couple has been legally wed but not married in a religious ceremony. Convalidation ceremonies must be performed by a member of the clergy if the couple wants it to be recognized by the church. If not, they may enlist the help of a close friend or family member.
Greet the congregation. This portion can be similar to the traditional wedding greeting: "We are gathered here today to witness the vow renewal of Sarah and Jacob Dixon."
Provide a brief speech about marriage. This can be a nonspecific speech regarding marriage as a whole or a speech geared toward the couple, including some personal stories about married life from the couple's past.
Invite the husband to say his vows to his wife. These may be the traditional vows said at first-time weddings or vows written by the couple. Afterward, ask the wife to say her vows to her husband. The couple may also have wedding renewal rings to exchange at this point.
Present the couple to the congregation as husband and wife.
References
Writer Bio
Andrea Hamilton has enjoyed being a writer since 1996. She has been published as a poet in "Fine Lines Magazine." Hamilton holds a Bachelor of Arts in literature from Iowa State University and is pursuing a Master of Arts in creative writing from London South Bank University.
Photo Credits
Digital Vision./Digital Vision/Getty Images