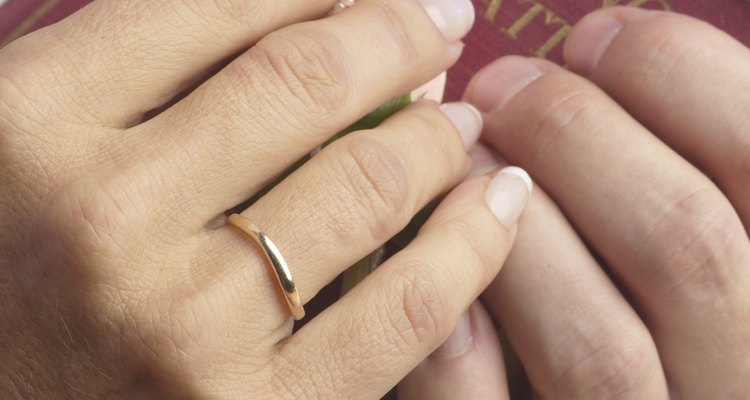 Hemera Technologies/AbleStock.com/Getty Images
If you and your estranged spouse decide to get back together after a period of separation, it's a cause for celebration. Renewing your vows reaffirms your commitment to making the marriage work and symbolizes a new beginning. Just like a marriage ceremony, you can tailor a vow renewal ceremony to suit your needs. There are no legal requirements for the ceremony, which gives you complete freedom to renew your vows in a way that reflects your personal tastes.
Step 1
Remember that a vow renewal ceremony is not a wedding. Keep it more intimate with only close friends and family present. Forget about groomsmen and bridesmaids. You might want to also involve your children in the ceremony, if you have any, suggests the National Healthy Marriage Resource Center.
Step 2
Plan your vow renewal day. Discuss your budget, venue, guest list and other elements like food and entertainment with your partner. Keep in mind that the party does not have to be elaborate. Focus on your ceremony and vows.
Step 3
Work on your vows together as they are the most important part of the day, reflecting your renewed commitment to each other, notes the Knot website. You can use standard wedding vows, or the vows you used the first time around, but you might want to write original vows to express how you both currently feel about your relationship. Your vows might include the reasons you love each other and how you enrich each other's lives. You can also both pledge to commit to the marriage going forward.
Step 4
Choose an officiate. A renewal ceremony does not have legal status, so anyone can officiate it. Consider asking a close friend or relative to conduct the ceremony.
Step 5
Compile a guest list and send out invitations. Give guests plenty of time to save the date. If you are planning to throw a party after the ceremony, make sure you include details of its location and time, and ask for an RSVP to help you keep track of numbers.
Step 6
Take your wedding rings to a jeweler to have them professionally cleaned. You might also want to purchase new rings, as this can symbolize a fresh start.
Step 7
Dress in your best. A woman can wear her original wedding gown if she's comfortable in it, but a nice evening gown or cocktail dress is fine, too. Forget the veil. The groom should wear a nice suit or tux.
Step 8
Don't walk down the aisle alone. If you have children, it's appropriate from them to accompany down their mother. Or, you can walk down the aisle as a couple -- husband and wife.
References
Resources
Warnings
It is considered inappropriate to register for gifts before a vow renewal ceremony, according to the Knot website.
Writer Bio
C. Giles is a writer with an MA (Hons) in English literature and a post-graduate diploma in law. Her work has been published in several publications, both online and offline, including "The Herald," "The Big Issue" and "Daily Record."
Photo Credits
Hemera Technologies/AbleStock.com/Getty Images