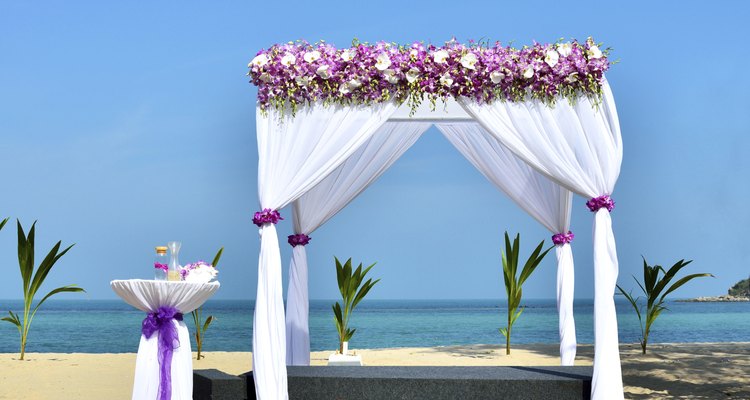 i_talay/iStock/Getty Images
With its beautiful beaches and natural sites, Sri Lanka is a top destination for a wedding ceremony. The bride and groom can visit ancient temples, go on an elephant safari or bird watch in a botanical garden. (Reference 2) Sri Lanka offers many kinds of ceremonies including a civil wedding, Christian wedding, buddhist wedding, Hindu wedding or Muslim wedding. (Reference 3) Follow a few guidelines, and a simple checklist, to create your tropical Sri Lankan dream wedding.
LEGAL REQUIREMENTS and DOCUMENTS
The minimum age to be married in Sri Lanka is 18. It is required to register at the marriage registrar's office where the marriage is to take place. Foreigners have to spend at least four days in Sri Lanka before they register their intent to wed. (Reference 2) After registering, the wedding couple may have to wait 14 days to receive the registrar's marriage approval. Documents needed from both the bride and groom are: a copy of the birth certificate, a valid passport and the names and addresses of the wedding couple. (Reference 3)
CEREMONY GUIDELINES
Sri Lanka offers a non-denominational wedding service or a traditional Buddhist Poruwa ceremony. (Reference 4) The bride and groom select the time, date and place for the wedding. If the traditional Sri Lankan wedding is chosen, the couple is escorted by drummers and Kandyan dancers to a wooden ceremonial platform to exchange vows. This ceremony includes an offering to the Gods, a chanting of blessings and an exchange of gifts. Once married, the registration takes place with a registrar and two witnesses. The ceremony ends with cutting the wedding cake. (Reference 4)
ETIQUETTE TO FOLLOW
Follow a few etiquettes during a Sri Lankan wedding ceremony to show respect for the culture. Wait for a Sri Lankan woman to extend her hand out first. Avoid hugs or kisses as a form of greeting guests. Address people by their title followed by the surname. Remove shoes when entering a temple or shrine for a ceremony as it is a Sri Lankan custom. (Reference 2--note: this reference covered this paragraph)
PROPER WEDDING ATTIRE
With the Sri Lankan weather being hot and humid most of the year, the bride is encouraged to wear a light silk dress. The groom can dress in a white linen suit. On the wedding day, guests typically wear traditional saris or suits. (Reference 1) Customize the dress or suit of the wedding couple by purchasing silk at a boutique and have a local Sri Lankan dress maker hand design the outfits.
References
Writer Bio
Based in Livonia, Mich., Margo Dewey has been writing cultural and society-related articles since 1987. Her articles have appeared in "Suburban Living" magazine, "Associated Newspapers", and "Oakland Business Monthly" magazine. She also produced a wedding cable series, "Just For The Bride". She has achieved the Michigan Press Association Award. She holds a Bachelor of Science in journalism from Eastern Michigan University and Bulmersche University in England.
Photo Credits
i_talay/iStock/Getty Images