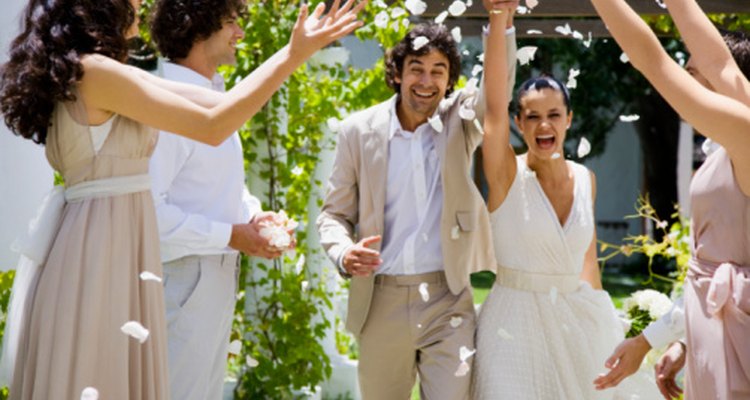 Jupiterimages/Goodshoot/Getty Images
A wedding vow renewal is a significant event for a married couple. Some couples renew their vows to commemorate a specific milestone like a 25th anniversary, while others choose to renew their vows after a particularly difficult time in their relationship. No matter the reason, the vow renewal event should be special and memorable to you and your guests. Because a vow renewal is not a legally binding ceremony, there are really no rules to how the ceremony should be carried out. You and your spouse can plan an event that reflects the love you have for one another and the life you share together.
Have the renewal ceremony in a place that holds special meaning to you and your spouse. This could be the original place where you got married, a favorite restaurant, the place you honeymooned or your own backyard.
Repeat your original vows, add to them or create new ones that reflect your personal journey as a couple. If you have children or grandchildren, you may want to mention them in your vows as well.
Include special friends or family members in the ceremony. Ask your children to select passages or poems to read during the ceremony. Have your original maid of honor and best man stand up for you again. If you have a friend or family member who is a musician, ask him or her to sing or play a special song during the ceremony.
Exchange new rings at your renewal ceremony. If you are very attached to your original rings and do not want to replace them, consider having them engraved with the date of your renewal.
Play meaningful music at your ceremony, such as the song that you first danced to at your wedding. You could also use the music that you walked down the aisle to at your wedding ceremony or a song that reflects your relationship as it is today.
Decorate your vow renewal event with photos from your original wedding. Create a collage of your life together with photos of the two of you, photos of children and grandchildren, family vacations and other special events.
References
Writer Bio
Danielle Klahr has been writing online content since 2008, covering topics such as motherhood and parenting, step-families, beauty/fashion, education and running. She has also worked as a developmental editor for an educational publishing company. Klahr holds a Bachelor of Arts in English from the University at Albany-SUNY, as well as a graduate certificate in leadership and management from the University of Maryland.
Photo Credits
Jupiterimages/Goodshoot/Getty Images