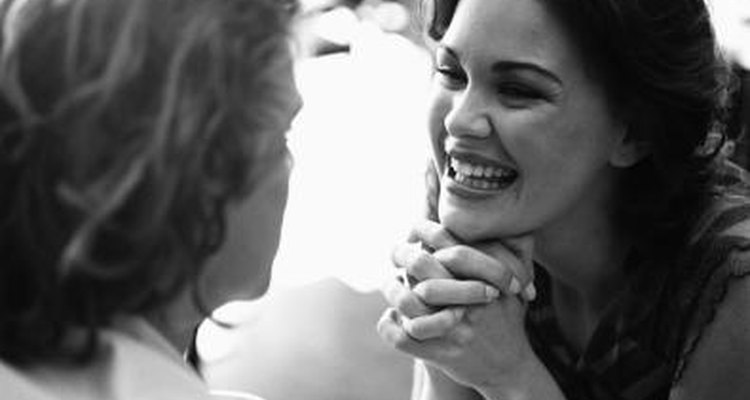 Stockbyte/Stockbyte/Getty Images
When it comes to gift giving, finding the perfect gift for your boyfriend isn't always easy. Perhaps you are faced with financial constraints or you just can't think of a gift that adequately conveys your feelings in any store. Whatever your reason, you can always create a homemade gift. Homemade gifts, such as a romantic photo collage, convey your love in a thoughtful manner. The time, energy and effort you put into creating a photo collage is something your boyfriend will appreciate when presented with his gift.
Step 1
Sort through photos of the two of you together throughout the course of your relationship. Choose photos with special meaning to the two of you; the pictures need not be romantic pictures, they can be humorous or goofy. The romantic aspect of the collage comes from the memories that are captured in each photo.
Step 2
Pick out your favorite photos, such as one from your first date, or your first Christmas together. Pick as many as you want to use in the collage and begin organizing them from most to least important. This is important in case you run out of space to add additional photos; you want to make sure your absolute favorites are included in the collage.
Step 3
Find small trinkets of your relationship, such as the ticket from the first movie you saw together or the napkin from the flight you took on your first vacation together. Add these items to your collage to spark a memory.
Step 4
Place your pictures and trinkets in a frame large enough to hold everything you want to display. Place the photos in a haphazard manner for a creative look or place them strategically as you want them displayed. Use doubled-sided tape to affix each photo and trinket to its place. Affix the pictures to a piece of poster board the same size as the frame.
Step 5
Place the poster board inside the photo frame and put the back into place on the frame. Wrap the frame or put it into a bag and give it to your boyfriend.
References
Writer Bio
Tiffany Raiford has several years of experience writing freelance. Her writing focuses primarily on articles relating to parenting, pregnancy and travel. Raiford is a graduate of Saint Petersburg College in Florida.
Photo Credits
Stockbyte/Stockbyte/Getty Images