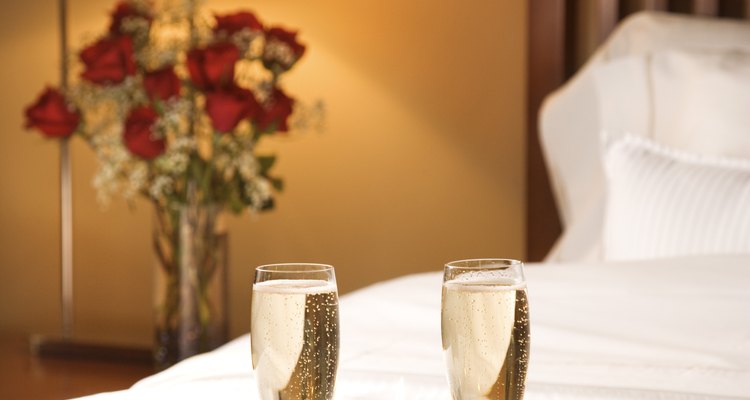 Thinkstock/Comstock/Getty Images
If your boyfriend is always the one pulling off surprises and special moments, turn the tables and surprise him this year on your anniversary. Book a luxury hotel room and have it set up for a romantic evening for two. With the help of friends, you can surprise him with the hotel room in a creative way that will totally catch him off guard and show him your super-romantic side. Here are a few ways to surprise him.
Step 1
Send your boyfriend on a treasure hunt. Leave clues that send him on a scavenger hunt around town. Enlist the help of friends by sending him to locations where they will be present to hand him the next clue. The last clue should lead him to the hotel you are at, where a concierge can give him a key to your hotel room. Put a bow around yourself to be the treasure at the end of his treasure hunt.
Step 2
Blindfold him, put him in your car and whisk him away to the hotel. Take him to the hotel and don't let him take the blindfold off until you are in the room, which should already be set up with champagne, rose petals and a bubble bath.
Step 3
Get a friend to bring him to the hotel. Pretend as if you have forgotten all about the anniversary or tell him you don't have the time to celebrate this year and arrange to have a friend invite him out to a hotel party. Your guy will be thrilled to find only you and a setting for romance at the hotel.
Step 4
Surprise your guy with a trip down memory lane at the hotel. Frame pictures of special moments the two of you have shared since you have been together and bring them to the hotel room. Place the photos all over the hotel room. When he arrives you can lead him around the room to each picture, where the two of you can reminisce about each moment.
Step 5
Hide gifts and treats around the hotel room for your boyfriend to find. For example, you might hide a special gift, such as a jewelry or a watch under his pillow on the hotel bed. If he likes a certain type of chocolate candy, leave a platter of the chocolate on a decorative tray on the bathroom counter. If he loves wine, bring his favorite kind to chill in a bucket of ice.
Resources
Tips
Opt for a romance package if the hotel you are staying in has one. Romance packages typically include things like chilled champagne, chocolates, an in-room dinner and flowers in the room.
Writer Bio
Based in Los Angeles, Zora Hughes has been writing travel, parenting, cooking and relationship articles since 2010. Her work includes writing city profiles for Groupon. She also writes screenplays and won the S. Randolph Playwriting Award in 2004. She holds a Bachelor of Arts in television writing/producing and a Master of Arts Management in entertainment media management, both from Columbia College.
Photo Credits
Thinkstock/Comstock/Getty Images