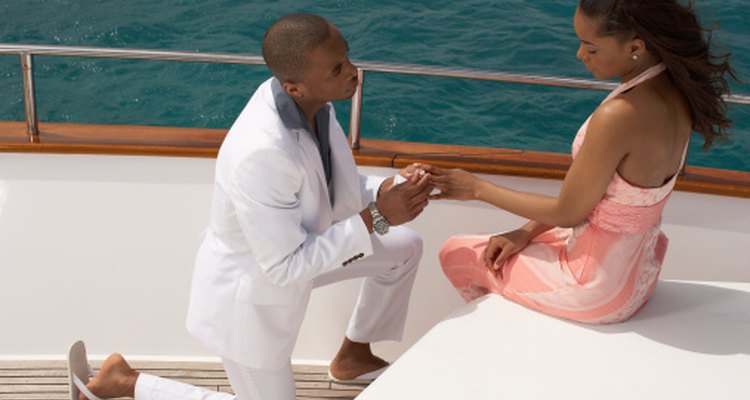 Erik Snyder/Photodisc/Getty Images
Wherever you propose, you know you want it to be romantic. Most girls dream of when and how they will be asked the big question. If you are on a cruise together, try to stay as secretive as possible. If you let out any tip that you may be proposing, she will be looking for clues. Run some ideas by your cruise director prior to your trip. He will often be able to set up the perfect evening for you. They can also provide you with some truly spectacular ideas.
During Events
While you are on the cruise ship, consider proposing during dinner. Each cruise has a Captain's dinner, where everyone is supposed to be dressed formally. This would be a great photo opportunity as you will both be wearing your best. It is usually a very classy and elegant dinner. You can also propose during a game show or concert, or even at the casino by drawing everyone's attentions toward you. Let your maitre d' know in advance so that he can immediately congratulate you with a bottle of champagne. Musicians abound on a cruise ship, so ask if any would be willing to accompany you as you woo her with an emotional speech.
Aboard the Ship
To elicit memories of the movie "Titanic," propose to your sweetheart on the bow of the ship. You could also ask your loved one at night as you are under the starry sky. Arrange with the cruise director to clear off a portion of the deck at night. Enlist a guitarist to play her favorite songs. Ask her to dance, and at the end of the song, pop the question.
On Shore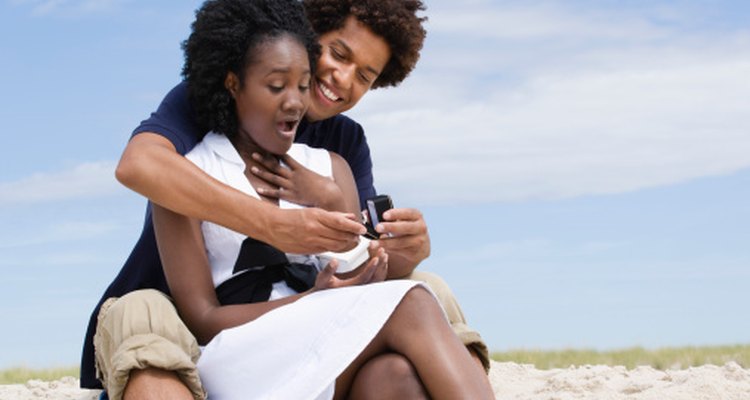 Jupiterimages/Comstock/Getty Images
Have a picnic on the beach. You can pre-order everything you need from the ship, including champagne, sandwiches, cheese and fruit. If you want, wait until sunset and ask her then for a memorable experience. If she enjoys snorkeling or scuba diving, go down deep and present the ring underwater.
Treasure Hunt
Draw a treasure map. Spend the afternoon following the directions on the map. Once you find the location, have her look around for clues. While she is busy looking, drop to one knee and tell her that you found it. She will turn around and see you holding her ring.
While Boarding
Jupiterimages/Photos.com/Getty Images
For something very creative – and more difficult – plan ahead with your cruise director. Coordinate with the security guards for one to prevent your significant other from boarding unless she answers "a specific question." When she asks what the questions is, drop to your knee and ask her to marry you. Make sure you are taken aside for this so that you do not inconvenience others who are boarding.
References
Writer Bio
Based in Atlanta, Crystal Huskey began writing in 2008 for various nonprofit organizations and news agencies. She now serves as the assistant editor for a hyper-local news site. Huskey is completing her Master of Arts in international relations at American Public University.
Photo Credits
Erik Snyder/Photodisc/Getty Images