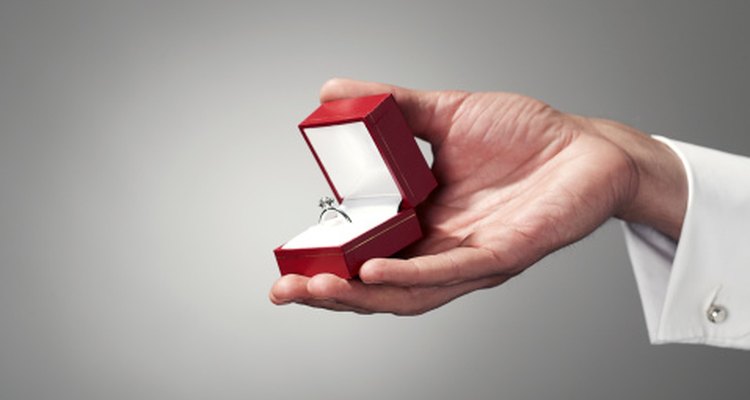 Walker and Walker/Digital Vision/Getty Images
Most people experience a marriage proposal only once in their life; therefore, it is essential to ensure the event is memorable and romantic. The state of New Jersey features many places that are perfect for popping the question. From 12,000 feet above the ground to a secluded romantic getaway along the Atlantic shoreline, New Jersey's multitude of proposal locations will help create the beginning of the rest of your lives.
Hot-Air Balloon Proposals
Clinton is a town in central New Jersey that is approximately a one-hour drive from both New York City and Philadelphia. In Flight Balloon adventures offers a romantic opportunity to propose to your loved one 12,000 feet above the ground.
Begin the evening with a complimentary bottle of champagne and a romantic dinner for two at the elegant Spain Inn, which serves a large selection of Spanish and Portuguese cuisines. After dinner, you can experience the lavish sights of Hunterton County, which makes for a scenic romantic proposal.
After she says yes, spend the night in one of the local bed and breakfasts such as Main Street, Riverside Victorian or the Berry Preserve. All bed and breakfasts offer intimate bedrooms and grounds, with a fully cooked breakfast each morning.
In Flight Balloon adventures offers proposal and romantic getaway packages throughout the year. It encourages guests to contact their balloon pilots to ensure the proposal will go perfectly.
Horse and Carriage Proposals
Throughout most of the state of New Jersey, Cloverland Entertainment can organize romantic horse and carriage rides in your own neighborhood or at your chosen proposal site. Have a traditional horse and carriage pick you up from your location and take you to your favorite restaurant, where you can sit at the best table. After dinner, consider taking a romantic ride to visit some of your favorite locations where you can sip on hot chocolate and pop the question.
Cloverland Entertainment can help organize your romantic event and offers a variety of carriage sizes.
Atlantic Shoreline Proposals
If your lover is a fan of the ocean, consider traveling to Cape May, known as the "Nations Oldest Seashore Resort." Cape May can be a romantic getaway weekend where you can spoil your loved one before proposing. Stay in a romantic bed and breakfast such as the Queen Victoria, which is in the heart of the city and only moments from pristine beaches and antique shops.
Book an appointment for two and enjoy the comfort of the Cape May Spa where you can enjoy a bamboo and stone massage, facials and aromatherapy. Escape for a romantic dinner for two at one of the many seafood restaurants. The Lobster House located on Fisherman's Wharf serves a large selection of fresh seafood. Propose to your loved one while sipping champagne and overlooking the Cape May Harbor.
References
Writer Bio
Quentin Shires has been writing since 2003, covering topics such as safety issues, travel and counseling. Shires holds a Master of Science in mental health counseling from Nova Southeastern University and is working toward his Ph.D. in human behavior from Capella University.
Photo Credits
Walker and Walker/Digital Vision/Getty Images