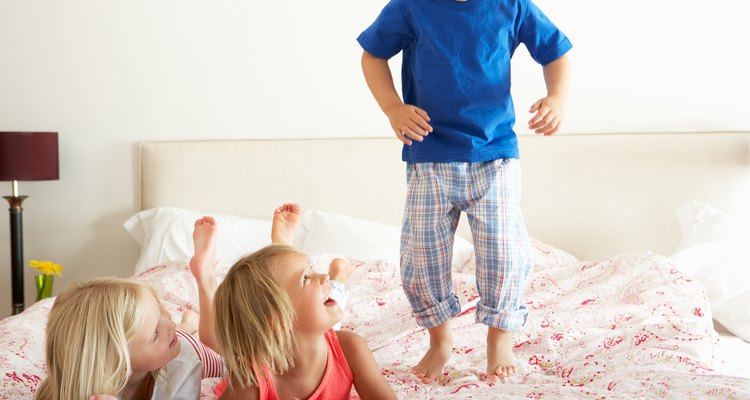 monkeybusinessimages/iStock/GettyImages
The Best Family Accommodations at Walt Disney World
With more than 25 Disney Resort hotels, from playful yet value-conscious rooms to luxury suites, there's something for all tastes and curiosities. While a handful of accommodations are catered towards adults, the majority are outfitted to inspire kids of all ages. Families can opt to stay in a lodge reminiscent of the African savanna, suites that put you right in the middle of your favorite Disney film or villas reminiscent of tropical Polynesia, among others. Hotels all fall under one of the following categories: deluxe, moderate or value. But don't judge based on price tag alone. Some of the value options might be the best bet for your family based on theme and types of activities offered on site.
Go on Safari at Disney's Animal Kingdom Lodge
If you can't make it to central Africa for a trek across the wild plains, the Animal Kingdom Lodge is the next best thing. The deluxe-level lodge and surrounding area are part of a 43-acre wildlife preserve teeming with more than 30 species of indigenous African wildlife, including zebras, giraffes, gazelles, kudus and flamingos. Take the family for a dip in the 11,000-square-foot Uzimi Springs pool with waterslides, or drop the kids off for supervised playtime at Simba's Clubhouse so you can take advantage of the spa or a quiet, child-free dinner. Going with extended family? The lodge offers the option to stay in a villa that sleeps up to nine.
Step into Your Favorite Disney Movie at the Art of Animation Resort
For kids and adults who adore Disney films, the value-level Art of Animation Resort will have everyone brimming with smiles. The fine details and design mimic scenes from films. If you blink, you may actually think you're in the film. The resort has three styles of family suites, and it houses the largest pool in all of Walt Disney World with features inspired by "Finding Nemo." Other areas of the property evoke "The Lion King," "Cars" and "The Little Mermaid." Kids who love art can participate in daily drawing classes guided by Disney animators.
Embrace Tiki Culture at Disney's Polynesian Village Resort
Once the family walks through the Great Ceremonial House lobby, you'll forget you're in Florida. The deluxe-level Polynesian Village Resort transports visitors to a tropical paradise with white-sand beaches, waterfalls, paths lit by tiki torches and a lava pool with a giant waterslide. At night, catch the Spirit of Aloha dinner show, a luau in the resort's open-air theater featuring dancers, drummers, a daring fire-knife performance and an all-you-can-eat Polynesian spread. However, the feast is an additional cost and must be booked in advance. This resort is one of the most luxurious and convenient places to stay for families, as it's directly on the monorail, making for a quick trip to the Magic Kingdom and Epcot Center.
Disney's Pop Century Resort Makes for a Playful Stay
Each decade from the 1950s to 1990s is whimsically presented at Disney's value-level Pop Century Resort. Here you'll find over-the-top experiences from a 23-foot-tall Roger Rabbit welcoming guests and a 1980s-themed area to a life-size foosball table, Mr. and Mrs. Potato Head statues that make a perfect backdrop for selfies and a giant Rubik's Cube sculpture. Everyone will be doing their best beach-party dance moves with the opportunity to swim or lounge alongside a sprawling 1960s-themed hippy pool, 1950s bowling-themed pool and smaller 1990s computer-inspired swimming area. There's also an adjacent water-jet fountain for the smallest visitors.
Return to the Great Outdoors at Disney's Wilderness Lodge
The Wilderness Lodge offers everything spectacular about turn-of-the-century national parks in the Pacific Northwest, but with crucial updates—namely indoor plumbing, electricity, room service and luxurious swimming pools. Kids can explore nature trails through pine forests, and adults can relax in rocking chairs overlooking a placid creek. In addition, the property boasts two pools: the Copper Creek Springs for splashing and the tamer Boulder Ridge Cove. Be sure to spend time in the lobby too. The deluxe-level lodge boasts an expansive entrance with an 82-foot tall fireplace that echoes the colorful stone strata layers of the Grand Canyon, as well as plenty of seating for the whole family to huddle around the roaring fire.
References
Writer Bio
Kristin Amico is a travel, food and culture writer that has spent more than a year traveling across Europe and Asia.