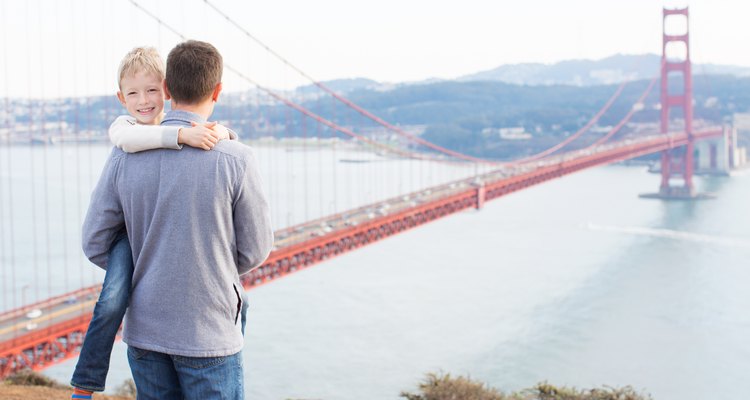 noblige/iStock/GettyImages
5 Hotels You and Your Kids Will Love
San Francisco is an amazing city to visit. The Northern California city, which overlooks the San Francisco Bay, is full of family-friendly activities and attractions and offers moderate weather all year. It can be tough to decide which of the city's hotels are best for you and the kids, but you will find several that make family a priority. You'll enjoy your stay more knowing that the hotel has everything the kids need.
1. Hotel del Sol
Hotel del Sol (3100 Webster St., San Francisco, CA), nestled in the Marina District of San Francisco, aptly bills itself as a "kid-friendly hotel." The boutique hotel is bright and colorful with an outdoor saltwater pool, perfect for a dip in the warmer months. You and your family will enjoy a complimentary continental breakfast, so you won't have to worry about hungry kids in the mornings, and even free daily afternoon milk and cookies. The rooms come in various sizes and are quite affordable. Plus, the hotel is within walking distance from Fisherman's Wharf, where you and the family can indulge in as much clam chowder as you can eat and watch the sea lions at Pier 39.
2. Sheraton Fisherman's Wharf
For easy access to some of San Francisco's top attractions, book a room at the Sheraton Fisherman's Wharf (2500 Mason St., San Francisco, CA). The 4-star hotel is close to the iconic Pier 39, Alcatraz Island, Ghirardelli Square and the Cable Car Turnaround, where you can hop on one of the city's famous cable cars. The hotel emphasizes San Francisco's year-round temperate weather with a heated outdoor pool, outdoor living room space and fire pits. The rooms and suites have city views, which the whole family will enjoy.
3. Fairmont Heritage Place Ghirardelli Square
Those looking for more luxurious options should stay at the Fairmont Heritage Place Ghirardelli Square (900 North Point St., San Francisco, CA). In the center of Ghirardelli Square, home to the Ghirardelli Chocolate Factory, the hotel is entirely composed of suites, making it easy to get everyone in the family their own bed. Each suite has its own kitchen, so you don't have to go to a restaurant for every meal, and the kids will have plenty of space to play in the living room. Don't forget to pay a visit to Ghirardelli, too. Their banana split is divine.
4. Handlery Union Square Hotel
Union Square is a central location to base your visit to San Francisco, and the Handlery Union Square Hotel (351 Geary St., San Francisco, CA) is a relatively affordable, family-friendly pick in the area. Rooms start at $169 per night in July 2017, a good price for San Francisco. Plus, they offer complimentary Wi-Fi, a heated outdoor pool, sauna and fitness center. Do some shopping in Union Square, and then head to the recently renovated art museum SFMOMA, where kids 18 and under get in for free. You're also steps from Chinatown, which has tons of interesting shops and great food.
5. Hotel Zephyr
Hotel Zephyr (250 Beach St., San Francisco, CA) is a quirky, cool place to bunk up. There, you can grab some food and drinks in an outdoor area called The Yard, enjoy the fire pits or challenge your kids to a game of pool in the game room. The hotel is near Fisherman's Wharf and easily accessible to Chinatown, Union Square and North Beach, which is home to Little Italy. Be sure to request a room with a water view so you can spy on Alcatraz from bed.