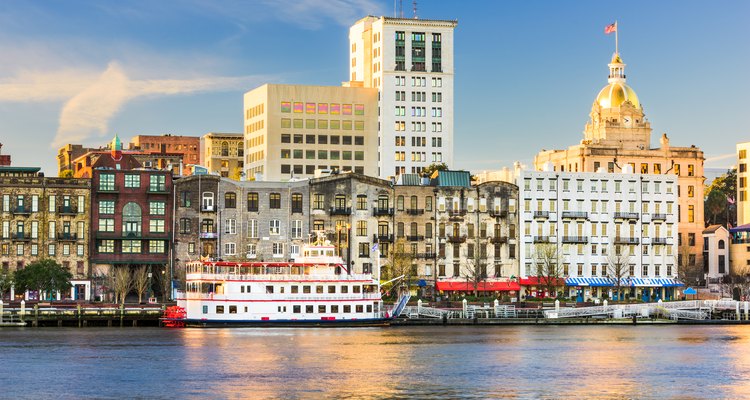 SeanPavonePhoto/iStock/GettyImages
These Five Recommendations Welcome Families With Open Arms
Savannah, GA, overflows with historical sights and attractions that serve as one of the city's main draws for families. However, the city also provides a wide variety of accommodations that further complement a family vacation. Choose from a historic hotel along one of Savannah's famous squares, opt for a room with a view of the Savannah River or stay in a house on nearby Tybee Island. To help narrow the search, consider these five family-friendly places to stay in Savannah.
Stay Down by the River
On the Savannah River opposite downtown Savannah, The Westin Savannah Harbor Golf Resort & Spa (1 Resort Drive, Savannah, GA) lets families kick back and relax as they watch the river traffic go by. The kids will love playing in the pool and on the children's splash pad, while parents will like the adult-friendly amenities such as the spa and the nearby golf course. Several on-site dining options are available, so families don't have to travel far to eat.
Make It Convenient
Families will love staying at the Andaz Savannah (14 Barnard St., Savannah, GA), a modern boutique hotel in downtown Savannah. The hotel itself features a variety of guest rooms and suites, plus a swimming pool, on-site restaurant and free Wi-Fi. The hotel is conveniently located right next door to Ellis Square, which features a public splash park and mini visitors center. In addition, the hotel is just blocks from the city's famous River Street.
Choose Something Cozy
At the Presidents' Quarters Inn (225 E. President St., Savannah, GA), families are welcome to stay in this historic bed and breakfast originally constructed in 1855. The Federal-style inn sits on Oglethorpe Square and features 16 guest rooms. Each guest room is named after a U.S. president, which provides a fun opportunity for kids to learn about our country's leaders. Every morning, guests can start their day with the gourmet breakfast, which can be enjoyed in the front parlor or in the courtyard gazebo. When it's time to get out and explore, visitors will find that the bed-and-breakfast is conveniently located near many of Savannah's top attractions and destinations.
Feels Like Home
For a truly unique stay in Savannah, book a garden apartment, town home or house with Lucky Savannah Vacation Rentals (317 E. Broad St., Savannah, GA). Choose a loft along Broughton Street, a townhome across from Forsyth Park, or a historic home close to some of Savannah's notable landmarks. Many include such amenities as full kitchens, internet service, parking, private courtyards, and either a deck or balcony. And, depending on the unit, parents generally have their own private bedroom with the kids staying in the living room or having their own bedroom as well.
Head to the Beach
Get the best of both worlds by staying in a beachfront hotel close to all that Savannah has to offer. Families staying at Hotel Tybee (1401 Strand Ave., Tybee Island, GA) will love heading straight out to the pool or beach, where they can play in the sun all day. Or they can drive to local attractions like the Tybee Lighthouse, Fort Pulaski National Monument and historic downtown Savannah.
Visiting Savannah
Savannah's location along the Georgia coast means it enjoys a mild winter but a hot and humid summer. Therefore, the most pleasant time to visit is during spring and fall. However, when planning a spring visit, be mindful of crowds coming in for the city's St. Patrick's Day celebration as well as to see the city's popular azaleas in bloom. School breaks also see a spike in visitors as families head to Savannah for vacation. School breaks also bring in a lot of Girl Scout troops, who come to visit the home of Juliette Gordon Low, the founder of Girl Scouts.
References
Writer Bio
Karon Warren has covered travel for nearly 20 years with numerous print and online publications. Her byline has appeared in USA Today, USA Today's 10 Best, WorkingMother.com, FamilyVacationCritic.com. and many others. She is a member of both the Society of American Travel Writers and the American Society of Journalists and Authors. In addition to her freelance work for other clients, she also writes for her own travel site, ThisGirlTravels.com