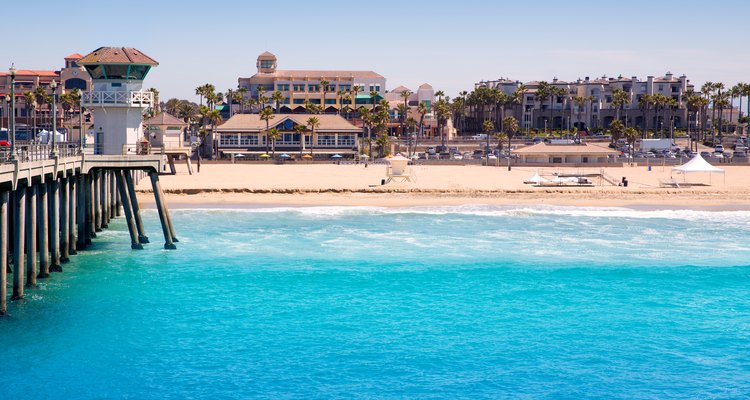 LUNAMARINA/iStock/GettyImages
Five Anaheim Activities Your Family Will Love
Located between Los Angeles and San Diego, Anaheim is a great location for you and your family to embrace the Southern California lifestyle. Your kids will love the city's bounty of outdoor activities, and you'll love that it's easy on your wallet. From stylish shopping centers to spacious parks, Anaheim can deliver family fun that's also financially friendly.
Visit the Mouse: Downtown Disney
If there's one thing modern-day Anaheim is known for, it's Disneyland. If you're hoping for a taste of Disney magic without the cost, check out the Downtown Disney District (1313 S. Harbor Blvd., Anaheim, CA), a shopping promenade that features live entertainment and other activities. When you arrive, be sure to park in the Downtown Disney parking lot, where you can park free for up to two hours or for four hours if you buy something in a shop or restaurant and have them validate your parking. Kids who love LEGO will get a kick out of the Downtown Disney LEGO store. Even if you don't buy anything, the kids will have endless opportunities to play there. And the most important thing to remember? A visit to Downtown Disney later in the day is an excuse to stick around for a glimpse of Disneyland's fireworks—for a magical ending.
Embrace the Beauty of Nature: Fullerton Arboretum
A short drive from the center of Anaheim is the Fullerton Arboretum (1900 Associated Rd., Fullerton, CA) that houses the largest botanical garden in Orange County. More than 4,000 plant species from around the world are displayed on its 26 acres. Your kids will enjoy exploring the trails throughout the gardens, but the children's garden—more than any other—will capture and hold their attention.
Adventure to the Pacific: Visit Nearby Huntington Beach
What California vacation is complete without visiting the Pacific? From Anaheim, Huntington Beach (315 Pacific Coast Highway, Huntington Beach, CA) is only a 20-mile drive. Spend the afternoon cruising the shoreline of "Surf City USA." Or, if your family is up for taking risks, brave a swim in the chilly ocean water. Be sure to bring a jacket just in case. Unlike East Coast beaches, the Pacific often remains cold throughout the summer. For a different vantage point, check out the view from the pier.
Not So Spooky: Anaheim Halloween Parade
Visiting Anaheim in the fall comes with a special perk: the city's annual Halloween festivities. Anaheim hosts a free Fall Festival (W. Center St. Promenade, Anaheim, CA) featuring all of the old-fashioned carnival favorites like games, treats and costume contests. The setting sun cues the start of the main event: the Anaheim Halloween Parade (Broadway and West streets, Anaheim, CA). Since 1924, ghosts, goblins and pumpkins have graced the streets of downtown Anaheim in what the Los Angeles Times has called "the biggest Halloween Party in the Nation." Your kids will love the creative pageantry the city's artists and performers deliver.
Take in Summer Tunes: Pearson Park
In addition to being a free public park with ample space where kids can run and play, Pearson Park (400 N. Harbor Blvd., Anaheim, CA) hosts a free summer concert series at its amphitheater. Past events at the amphitheater included Beach Boys and Eagles tribute bands. If your kids would rather play, they can choose from the park's climbing apparatus, swings or playground, located behind the amphitheater. Or, if you would rather watch feathered friends, visit the park's large duck pond near Sycamore Street.