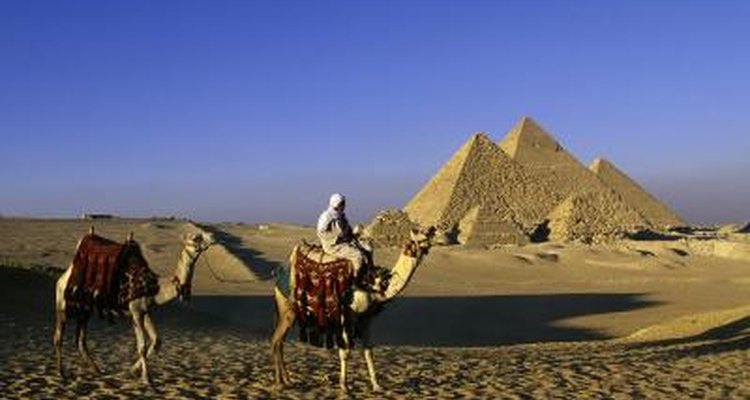 Goodshoot/Goodshoot/Getty Images
Egypt is a land of romance with stunning desert vistas and exotic gardens. Brides seeking a memorable wedding adventure should consider an outdoor wedding in Egypt. Families will always remember their trip to Egypt and the pictures will have backgrounds that few couples can boast in their own wedding albums. Before the wedding, guests can visit such memorable places as the Great Pyramid of Giza, sail the Nile on a traditional Egyptian sailboat called a Felucca or see the treasures of Tutankhamun at the Egyptian Museum.
Time Frame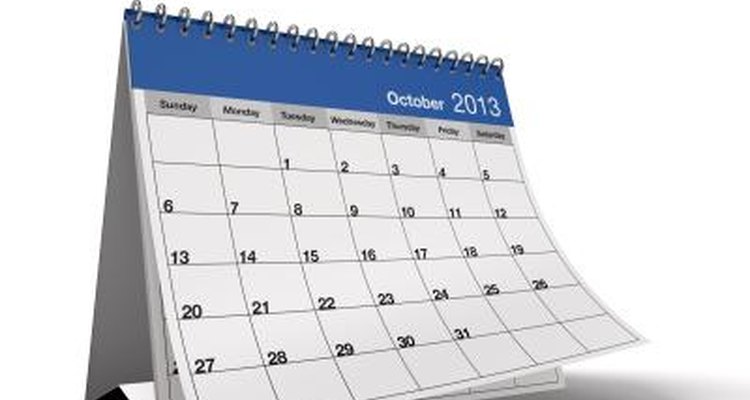 MicroWorks/iStock/Getty Images
The best time to have an outdoor wedding in Egypt is during the winter between October and March. Temperatures in winter average between 50 and 75 degrees Fahrenheit, and rainfall is rare. Summers in Egypt are extremely hot, especially in traditionally popular months to get married such as June and July. Temperatures during these months can rise to as high as 122 degrees.
Cairo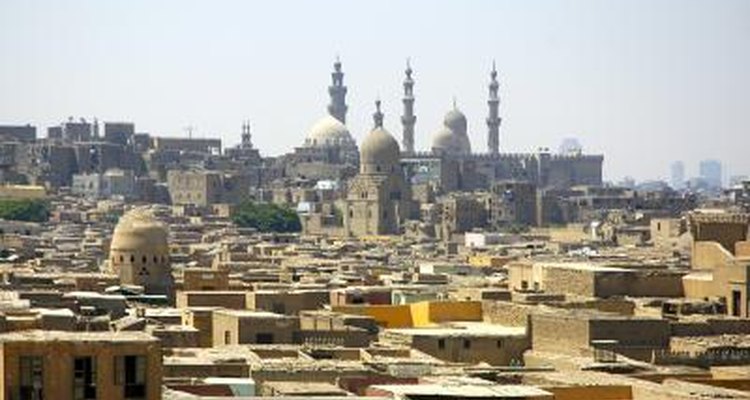 Gabor Racz/iStock/Getty Images
Egypt's capital, Cairo, is the most convenient and tourist friendly Egyptian city for an outdoor wedding. Cairo's international airport and public transportation make it easier on arriving guests to get to their hotels and to the wedding.
Because Cairo is the main gateway to Egypt, many of the locals are used to the regular influx of tourists and speak English. This makes it easier on relatives attending the wedding who are not used to international travel. In addition, many of the escorted tours of Egypt begin in Cairo, giving visitors an opportunity to book any number of tours to see the rest of the country after the wedding.
Cairo Marriott Hotel and Omar Khayyam Casino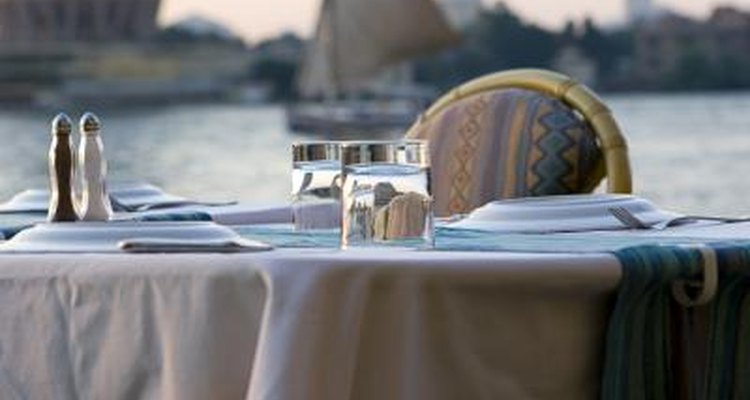 Gustavo Fadel/iStock/Getty Images
For couples who want something truly memorable, the Cairo Marriott Hotel and Omar Khayyam Casino specializes in designing events to take place at the foot of the Giza pyramids. Their skilled event planners offer customized menus, cakes, flowers and photographers: everything that is needed to create an outdoor wedding event.
Other outdoor venues the hotel offers are on the property and include acres of landscaped gardens. In addition, the hotel makes for an excellent backdrop for wedding pictures because it looks like a palatial residence rather than a contemporary hotel.
Four Seasons Hotel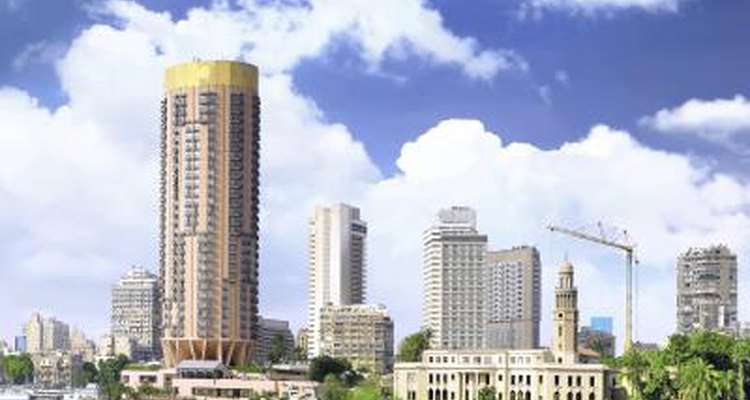 VitalyEdush/iStock/Getty Images
The Four Seasons Hotel in Cairo offers panoramic views of the Nile River, the city of Cairo and its medieval landmark called the Citadel. The hotel has an in-house wedding planner who can arrange an outdoor wedding on the hotel grounds or at a variety of venues throughout the city. The wedding planner can help couples have their dream Egyptian wedding and they will handle everything including invitations, flowers, customized wedding cakes and the photographer.
One outdoor wedding venue offered by the Four Seasons Hotel, the pool deck, is an ideal spot for a smaller outdoor wedding. This lush landscaped area offers a view of the city and is paved with rich ceramic tiles that create an exotic ambiance to the pool area the deck overlooks.
Conrad Cairo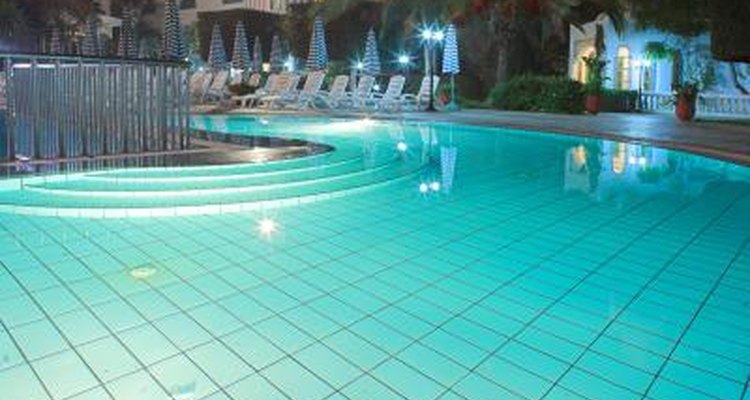 Steen Wackerhausen/Hemera/Getty Images
The Conrad Cairo is located in downtown Cairo overlooking the Nile River. Its location makes it easier for visitors to see the central sites of Cairo, such as the Egyptian Museum. The hotel holds a number of weddings and offers a variety of wedding packages complete with a photographer and the choice of different menus, colors, flowers and wedding cakes.
For outdoor weddings, the Conrad Cairo has a package called The Terrace. The Terrace package offers a third-floor terraced venue overlooking the Nile River. In addition, the hotel is surrounded by four acres of landscaped gardens that impart an element of romance and provide a lovely location for wedding photographs.
Ferme de Plein Air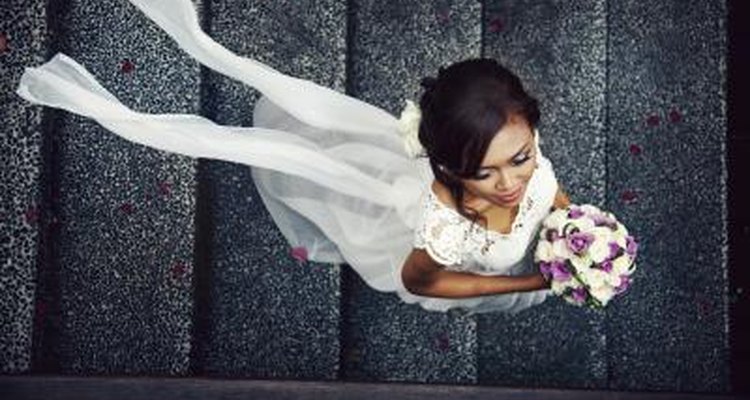 mila-apid/iStock/Getty Images
Ferme de Plein Air is a popular place to get married for the residents of Cairo. They can provide everything that is needed to create a magical evening of romance and they have experience in offering traditional Egyptian outdoor weddings. Their exotic garden offers a large expanse of green lawn surrounded by palm trees and lush sweet-smelling native Egyptian plants reminiscent of a desert oasis, which provides a beautiful venue for an outdoor wedding.
Their on-site wedding consultant can arrange a variety wedding themes and offers flower arrangement, photographers and exotic Egyptian tents in which to hold the banquets. They also provide the wedding cake and a choice from two traditional Egyptian multicourse wedding meals.
References
Writer Bio
Anastasia Zoldak is an experienced freelance writer and researcher based in Chicago. She has been a professional writer since 2007. Zoldak has an undergraduate degree in business, which she has used in a variety of industries, including retail, sales and recruiting. Prior to becoming a writer, she ran a successful business.
Photo Credits
Goodshoot/Goodshoot/Getty Images