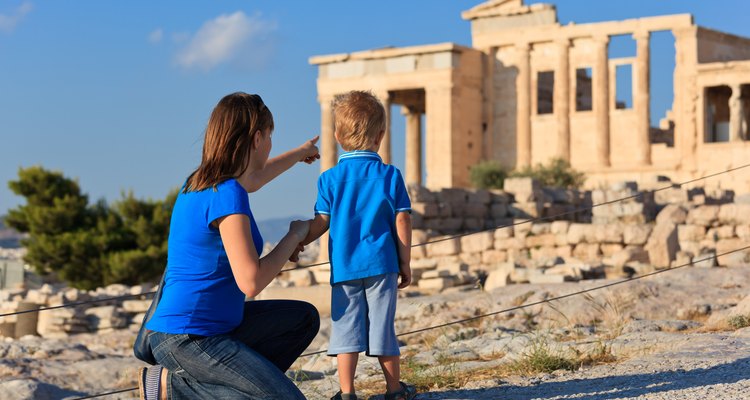 Nadezhda1906/iStock/GettyImages
Greece Offers Four Seasons of Fun for the Whole Family
Greece is a top global destination that welcomes more than 12 million tourists each year. Finely tuned to the needs of visitors, the Greek tourism sector offers top-notch accommodations and family-friendly attractions at every price point. Although most popular as a warm-weather escape, Greece is a wonderful place to visit all year round, and traveling in the off-season can mean big savings. Here are recommendations of things to do and places to stay for every season.
Summer: Avoid the Crowds in an Eco-Village
Summers in Greece can be oppressively hot and bone dry, which is why tourists and locals alike flock to the coasts. The country's most popular beaches are often packed with young partiers, however. Look to the mountains for a cooler and calmer getaway that makes summer an ideal time to experience the Greek culture you won't get in a beachside tourist trap.
Immerse your family in Greek tradition from the comforts of an eco-village in the mountains. The Enagron Ecotourism Village (Rethymno, Axos, Crete 740 51, Greece) is located on the holy mountain of Mount Psiloritis on the island of Crete. Enagron was built to look like a traditional Greek village and offers rooms for two to six people. Amenities include a pool, playground, special children's programming, cooking lessons, botanical walks and quality time with the farm's animal residents. Venture outside of the village to visit nearby monuments, participate in cultural events and attend local concerts.
Fall: Go Back in Time at the Acropolis
With summer crowds thinning out and warm weather that lingers through the fall, early autumn is the best time to tour outdoor archaeological sites. The city of Athens, the historical capital of Europe, is a modern city with old-world charm. Stay at the family-friendly MET34 Athens Hotel (Petraki 9, Athina 105 63, Greece) to be close to the action. Read your kids a few ancient Greek myths over the hotel's complimentary breakfast to provide vivid context for the places they'll be seeing before visiting the city's renowned archaeological sites, including the Parthenon, the Temple of Olympian Zeus and the Panathenaic Stadium.
Winter: Ski Historic Slopes
Winter in Greece might seem like a strange idea, but the country actually has a lot to offer to off-season travelers who aren't afraid of the chill. Lower hotel prices leave you with more money in your wallet to spend on actually experiencing Greece, and small crowds make for fewer awkwardly photobombed family pictures.
If your family is all about snow, take a trip to Parnassos Ski Center (Amfikleia-Elateia 350 15, Greece), the biggest downhill ski resort in Greece. With lots of beginner terrain and skilled instructors, new skiers and snowboarders will be cruising in no time. The nearby city of Arachova offers ample aprés-ski entertainment, so stay at the Hani Zemenou Hotel (Livadias, Arachova 320 04, Greece) or one of the many other family-friendly hotels in Arachova. You can either rent a car or take the Klaudatos ski bus to the mountain, but renting a car is recommended because you will also want to visit Delphi and the Hosios Loukas monastery, which are both less than a 30-minute drive away from the hotel.
Spring: Stay Beachside on a Budget
Spring is the best time to enjoy Greece's iconic beaches. The weather isn't too hot yet, sites aren't too crowded and, if you're willing to lead your family a little off the beaten path, you'll have an unforgettable experience without blowing your budget.
Take advantage of Greece's beautiful spring weather by staying at Camping Sikia (Pelion, Kato Gatzea 373 00, Greece) for a beachfront experience without the frills. The rustic resort offers spaces for tents, camper sites and private suites complete with kitchenettes. Groceries are available nearby, and there are showers, bathrooms, laundry and a great restaurant. Very popular with families, this destination is great for visiting the Mount Pelion area and offers parents with younger children the chance to enjoy the calm waters of the Pagasetic Gulf without the hustle and bustle of more crowded areas.
Bonus Tip: Summertime Child-Friendly Programming in Athens
The iconic Athens and Epidaurus Festival, or the Hellenic Festival, is a summer staple in and around Athens. Until recently, it wasn't very family-friendly. Performances of ancient plays aren't very interesting for most young kids, and children under the age of 6 aren't allowed in the theaters at all. The festival now offers low-cost programming for children during select shows at the Ancient Theatre of Epidaurus (Epidavrou Tripolis, Epidavros 210 52, Greece) throughout the festival so that you can enjoy a piece of history while your kids are preoccupied with theater, movement, music and art workshops designed for children ages 4 to 12.