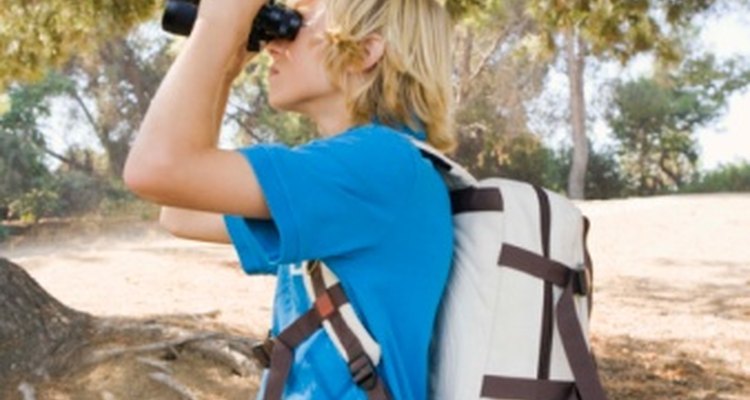 Jupiterimages/Creatas/Getty Images
Summer gives kids a break from school, and it gives you more time together as a family. Summer also means more expenses, which can be a burden for low-income families. Summer camps and vacations may be out of the budget, but you can find plenty of activities in your community that are free or cost very little. Those inexpensive options can be just as memorable as something that costs exponentially more.
Explore the Great Outdoors
Mother Nature is free and full of exploration possibilities. Whether you live in the country or the city, you can find ways to interact with nature. Walk to a nearby park to look for different types of trees, flowers and plants. Head to a local wildlife preserve or nature area to see plant and animal life. Walk through a shallow creek behind your house. Nature is a great place for kids to learn, and it can be relaxing for you.
Catch a Cheap or Free Flick
Many theaters offer inexpensive movie programs during summer break. The movies are usually fairly current, dating to the previous few years. They're not brand new, but they'll still appeal to your kids. Drive-in movie theaters are often more affordable than cushy full-price theaters. Many let you bring your own food, so you don't have to spend a lot on concessions.
Some communities host free movie nights periodically throughout the summer. They're often held in local parks on large, portable screens. Pack some snacks and blankets, and you can enjoy a family movie night under the stars without breaking the bank.
Scout Out Cheap or Free Kids' Programs
Many local organizations offer free or inexpensive program options for families. Even if a program usually has a fee, you may be able to receive financial assistance to cover the cost if you meet income requirements. Local offerings range from one-time activities to weekly events or daily camps where your kids explore crafts, sports, nature, computers and other interests.
Check out these organizations and options for cheap or free kids' programs:
Public libraries

School districts
Community centers
Parks and recreation departments
Churches
Stores like Home Depot, Bass Pro Shop and Michaels offer free activities for kids during the summer. Kids can learn outdoor skills or make a craft project. The Kids Bowl Free program connects kids with local participating bowling alleys to provide two free games of bowling each day. These types of programs give you something exciting to do away from home without cutting into your budget.
Attend Free Community Events
Summer is prime time for festivals, parades and community events. Get out of the house and connect with others in your community by attending these events. Keep in mind that many festivals and events have rides, games and vendors that are expensive. To avoid temper tantrums, establish ground rules before going. You might tell your kids that each one gets to choose one game to play, for example. Eat before you go to avoid the temptation of eating expensive festival food.
Some businesses host free and reduced admission days during the summer. A museum or local symphony might have a free night one evening a month, for example. Businesses sometimes give away tickets for local baseball games or other events. Look for these special opportunities.
References
Writer Bio
Shelley Frost writes professionally on a full-time basis, specializing in lifestyle, family, parenting and relationship topics. She holds an education degree and has extensive experience working with kids and parents.
Photo Credits
Jupiterimages/Creatas/Getty Images