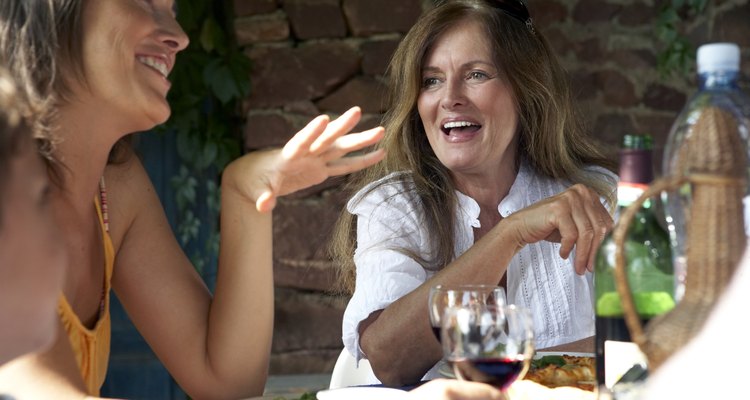 Soul/Digital Vision/Getty Images
When mother and daughter live under the same roof, there's often plenty of time to spend together. However, once a daughter moves out, staying connected on a regular basis can become a little more difficult with the hustle and bustle of everyday life. When you do have an opportunity to spend the day together, plan something new or engaging for a day full of memory-making that you will both enjoy.
Pampered Princesses
Indulge in some mom-and-me time at a local spa where you both can enjoy mini-facials, manicures and pedicures or a pair of relaxing massages. If you're working with a budget, make it a day at home and play esthetician for each other instead. If you both agree that it's time for a new look, venture down the cosmetic highway together for duo makeup consultations, or lean on each other for support as you hand over control to an upscale hairstylist. Complete the day with a glamour photo shoot, or visit a nearby vineyard for a late afternoon wine-tasting.
Bright Ideas
While the formative years have come and gone, there's no reason to stop learning -- particularly when you can share the experience with one of the most important people in your life. Spend a mother-daughter day taking a class together to learn something that neither one of you has ever explored in the past. You can take a crash course in photography to improve your next family reunion shots, or sign up for a lesson in pottery-making so you'll have some creative gifts to give next Christmas. Enroll in a workshop to learn about nutritional meal preparation, perhaps something specific like vegetarian, vegan or gluten-free. You might also ensure that you can help out each other in an emergency with a one-day first aid course, or get physical with an introduction to rock climbing, horseback riding or paragliding.
Shopaholics
If you both agree that a special day can involve charge cards and gift bags, share a day of shopping together. You can peruse the local shopping mall for some great deals or make the day a little more interesting with a mini wardrobe makeover with the only catch being that you get to pick out each other's outfits. If fashion isn't your forte, you can go antiquing together to find new home decor accent pieces, or make it a thrifty day together, scavenging for the best deals at local flea markets, yard sales and garage sales.
Charitable Engagements
Share some mother-daughter time together while helping out others in need for a memorable experience that you'll likely want to repeat again soon. Use your common interests as a guide to the ideal opportunity -- but be sure to look into any requirements before the day arrives. For example, you can volunteer your services together at a local animal shelter or sign up for a one-day home-building project for charity. If you can both carry a conversation well, visit with patients in a hospital or residents in a long-term care facility. If you're a physically active mother and daughter duo, sign up for a walkathon for charity or a more challenging marathon event.
References
Writer Bio
Rosenya Faith has been working with children since the age of 16 as a swimming instructor and dance instructor. For more than 14 years she has worked as a recreation and skill development leader, an early childhood educator and a teaching assistant, working in elementary schools and with special needs children between 4 and 11 years of age.
Photo Credits
Soul/Digital Vision/Getty Images