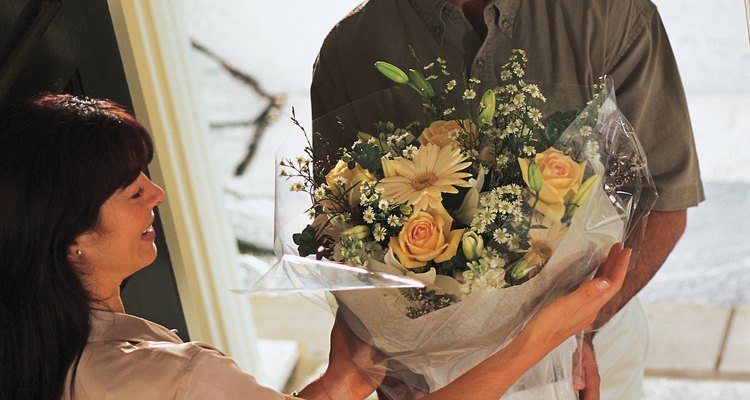 Comstock Images/Stockbyte/Getty Images
There may come a time in your relationship where the spark is no longer there and boredom has stepped in leaving you and your lover feeling distant. Giving gifts that evoke a romantic feeling will ultimately help you and your lover reconnect. Several types of gifts can revitalize your relationship and bring you both back to the time when you were madly in love with each other.
Gifts of Experiences
Gifts that will promote you and your lover to have an experience together will add spark to your relationship. Arrange an outing with your partner's interests in mind, according to psychologist Barbara Markway, writing for "Psychology Today." A lover will be thrilled to see the other genuinely show interest in their favorite hobby and thus bring you both closer together. Present a gift certificate to a lover who enjoys pottery to create plateware together at a studio or pay the way for the both of you to receive a cooking lesson if your lover likes to cook. Enjoy the time to learn things about their other's hobby and laugh at any mishaps.
New You, New Me
Sprucing up a bit will ultimately help you both look even more attractive to each other and spice up your relationship. Having a lover tell you how attractive you are is an essential part of a romantic relationship, according to the article "10 Ways to Create Magic in Your Relationship" by Barton Goldsmith, Ph.D. Pay the expenses for grooming services for your lover to receive a new makeover and vice versa. Suggest new hairstyle and clothing ideas that you think will fit each other well. Perhaps you might think a new pixie cut will be a fitting choice for your girlfriend while she would love to see you with a shaped up beard. Celebrate your new looks by going on a romantic dinner and give each other compliments.
Surprises for My Sweetie
It does not have to be a holiday or birthday to let your lover know you are always thinking of them. Surprises are uplifting acts of love and will be remembered for a long time, explains Dr. Goldsmith. Plan to catch your partner by surprise with random gifts on ordinary days as a "Just Because I Love You" gesture to add magic back to your relationship. Send fruit baskets or gourmet chocolate to your lover's workplace or office. A bouquet or flowers, plant or teddy bear will also be ideal choices. They can be placed on a desk as a constant reminder of your love.
A Romantic Adventure
A break away from everything may help you and your lover reconnect. Find a plan that will give you some of the same feelings that brought you together, according to Dr. Keith Ablow, writing for "Good Housekeeping." Give your lover the gift of a short getaway for you both to share romantic moments together. Perhaps take a trip to the beach and stroll along the sand hand and hand or hide away for the weekend in a log cabin in the woods. You both can share this alone time to reflect on your relationship, such the day you met or your first date. Help each other to remember these moments to bring that spark back to your relationship like you had in the beginning stages.
References
Writer Bio
Wannikki Taylor is a professional writer with a Bachelors of Arts in journalism from Temple University. She serves as a children's columnist and covers family entertainment for several print and online publications. She specializes in games, crafts and party planning ideas for kids and their families.
Photo Credits
Comstock Images/Stockbyte/Getty Images