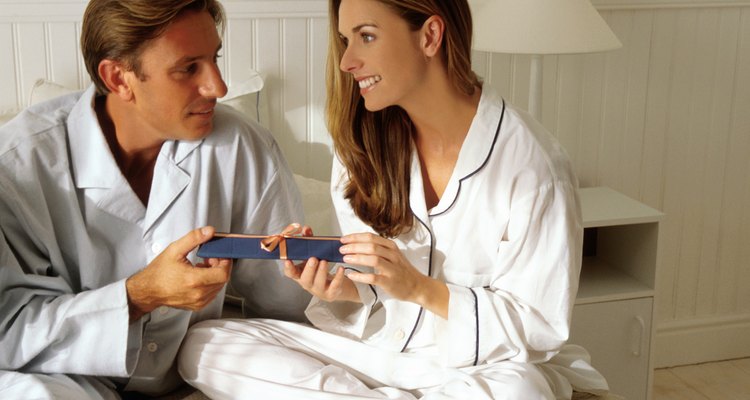 Goodshoot/Goodshoot/Getty Images
The first year of dating can be an exciting time. Your one-year anniversary is the chance to let your girlfriend know how important she is to you and how amazing this past year has been. Choose gifts that celebrate the past year, have symbolic meanings or are romantic and express your love.
First Year Memories
Give your girlfriend a gift that chronicles memories of the first year. Put together a photo album of the moments you have shared. Include notes about your memory and how you felt. You could also create an online slideshow, set to music, or have a calendar made for the next year. Another idea is to create a scrapbook with mementos from events of your first year together -- movie ticket stubs, a takeout menu or the first card you gave her.
Paper Gifts
Paper is the traditional first year anniversary gift for married couples, but you could give your girlfriend a paper gift for your first year of dating, too. One idea is to give her a book or set of books from her favorite authors. You could also have personalized stationary made for her. Concert tickets to see a favorite singer or band would be an exciting surprise. Another idea is to create a jar of love coupons with things like "one free back massage," and "cook my specialty taquitos." She can redeem them at any time.
One Year Symbols
Give her a romantic item symbolizing one year together with a note attached. For example, you could give her a single rose with a note attached that says, "one rose for the love that has blossomed between us this year." Other items could include a plush heart, a heart charm necklace, a heart-shaped balloon and a hand-written love letter made into a paper origami swan or rose.
Take a Trip
Take a romantic trip out of town. This is ideal if you haven't taken a big trip together yet. You can either surprise your girlfriend if you've got a good idea of where she would want to go, or together decide on a destination. Choose romantic accommodations, such as a cozy winter cabin, a deluxe suite at a swanky city hotel or a secluded villa at a luxury tropical hotel. Many hotels offer romance packages to enhance your trip.
References
Writer Bio
Based in Los Angeles, Zora Hughes has been writing travel, parenting, cooking and relationship articles since 2010. Her work includes writing city profiles for Groupon. She also writes screenplays and won the S. Randolph Playwriting Award in 2004. She holds a Bachelor of Arts in television writing/producing and a Master of Arts Management in entertainment media management, both from Columbia College.
Photo Credits
Goodshoot/Goodshoot/Getty Images