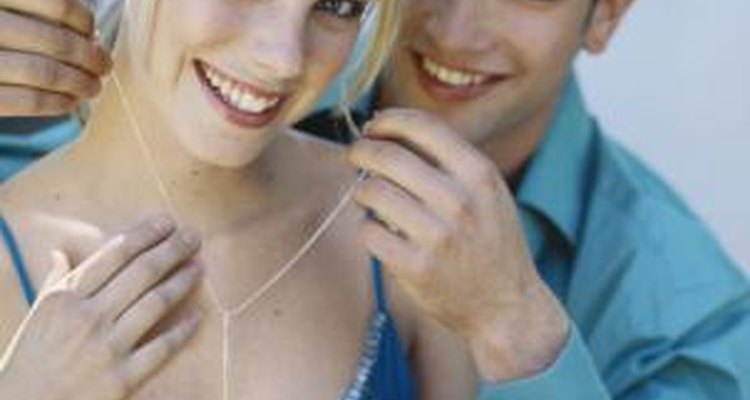 Stockbyte/Stockbyte/Getty Images
A necklace makes an enthralling gift for your girlfriend, whether for a birthday, an anniversary or as a surprise. Having it engraved can only add to the gesture. What you engrave, however, can have an enormous impact on how much she likes it. Whatever you choose, it will be etched into the necklace forever. There are many options out there that might make an appropriate engraving. In the end, think about what your girlfriend would like best. Choosing an engraving you know will feel special to her is the best way to show you care.
Names
It may seem obvious, but engraving names on a necklace can be poignant and meaningful. Consider engraving your girlfriend's name to show her the necklace is for her and for her only. You can also put both of your names on the engraving to show that you are committed to her. Have the word "forever" engraved after or underneath your names. Alternatively, engrave the name of someone close to your girlfriend that she has lost recently, such as a grandparent.
Expression of Love
A necklace engraving is the perfect place to express your feelings to your girlfriend. Have a message of love engraved on it that shows how you feel about her. Try something conventional, such as, "I love you," "Together forever," "You are my strength" or "We rock together." Think about what your girlfriend would like. She might appreciate something more personal and specific. In that case, come up with your own words that truly express how you feel about your girlfriend.
Inspirational Quotes
You can use someone else's famous words to show your girlfriend that you love her. Engrave her necklace with a quote about love, such as, "A loving heart is the beginning of all knowledge," by Thomas Carlyle, or "There is only one happiness in life -- to love and to be loved," by George Sand. Try a quote by an inspiring historical figure such as Mahatma Gandhi, who said, "Where there is love there is life."
Private Joke
A necklace engraving can be the perfect place to remind your girlfriend about a joke you shared in the past. It will show her you care, and further establish the personal bond you share by making the inscription something that only makes sense to the two of you. Think back to a funny moment you shared on a first date or early on in the relationship. Think about travel you have done together, or a funny movie you saw together and both loved. Finding the perfect inside joke to engrave can be difficult, but it will be worth it if you find the right one.
References
Writer Bio
David Coodin began working as a writer in 2005, and has been published in "The Walrus." He contributes to various websites, writing primarily in the areas of education and art. Coodin holds a Ph.D. in English literature from York University in Toronto.
Photo Credits
Stockbyte/Stockbyte/Getty Images