The scarcity and resiliency of platinum makes it more valuable than gold. Platinum deposits are found in Africa and Russia, with South Africa unearthing roughly 80 percent of the annual supply, according to Wealth Daily. Not only was platinum used to set famous diamonds such as the Hope diamond, the Duke and Duchess of Windsor commissioned Cartier to make platinum wedding rings. Silver-gray in appearance, platinum does not tarnish. Platinum is the metal marking the 20th and 70th anniversary. Despite its rarity, there are numerous gift ideas to celebrate these milestones.
Jewelry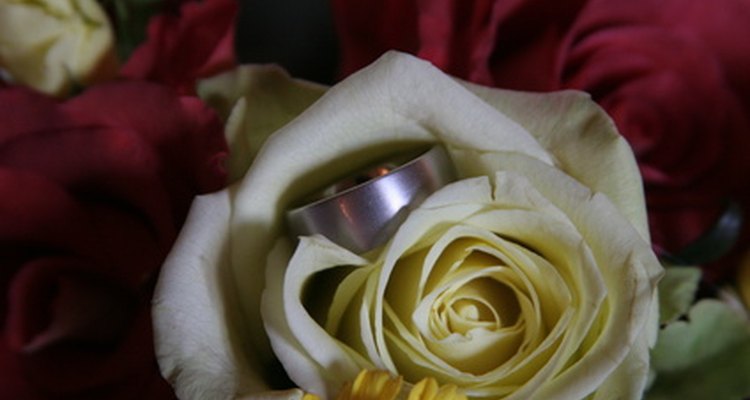 metal wedding band ring groom tungsten platinum image by Paul Retherford from
Fotolia.com
Though expensive, platinum anniversary rings are an option. If possible, add an extra touch by engraving the rings with romantic sentiments, names or the wedding date. For men, there are platinum cufflinks or tiepins. Other romantic options for women include platinum pendants in the shape of hearts or lockets with a picture of the husband or the children on the inside.
Romantic
Nearly all luxury boutiques and jewelry stores carry champagne flutes tipped with platinum, or platinum flower vases. Fill the vases with real red roses or silk roses with platinum-tipped petals. Another amorous accessory is to buy a platinum candy dish and fill it with heart-shaped cinnamon candies or hard, heart-shaped Valentine candies that have tender-sweet-nothings written on the sweets.
Travel
Credit card globe image by patrimonio designs from
Fotolia.com
For those with wanderlust, consider platinum gifts with travel themes. One example is the American Express Platinum Credit Card. Accumulated points can be used toward hotels, private air travel, cruise ship vacations and stays at villas located everywhere from Greece to Tuscany. Or, there is the Platinum Hotel & Spa in Las Vegas, NV. In addition to various luxury suites, the hotel has a poolside bar, indoor and outdoor swimming pools and a spa that offers hot stone and Swedish massages.
Miscellaneous
binoculars on book image by FJ Medrano from
Fotolia.com
Purchase a platinum pen or platinum binoculars that are either engraved with a person's name or a favorite meaningful quote. Binoculars are ideal for a person who longs to take a safari or an opera fan. Take a creative route and look up albums that have sold so many that they are ranked "platinum." Put them together in a gift basket or purchase a record and have it framed. Rock lovers might favor the Beatle's "The White Album," Bon Jovi's "Slippery When Wet" or Santana's "Supernatural." For pop aficionados there is "…Baby One More Time" by Britney Spears or TLC's "CrazySexyCool."
References
Writer Bio
A graduate of the University of the Arts in Philadelphia with a B.F.A. in writing for film and television, Erin Moonyeen Haley also studied art history at Studio Arts Centers International in Florence, Italy. A writer for over 24 years, she has been published in "Philadelphia Style Magazine" and "Collegebound Teen Magazine."
Photo Credits