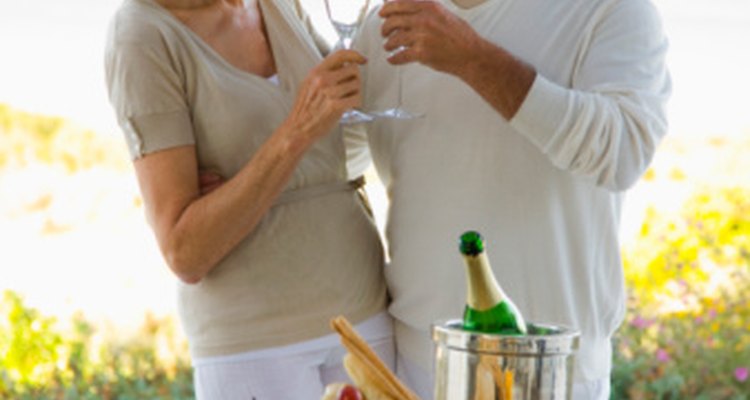 Jupiterimages/Goodshoot/Getty Images
Twenty-three years of marriage warrants a special gift to mark a husband's and wife's many years together. Consider the budget and incorporate the number 23 into the gift. Determine which is most appropriate for the receiver; a contemporary or antiqued gift. Consider the receiver's tastes and likes. Traditional anniversary gifts for 23 years include silver-plated items, semi-precious stones, the gift of travel or the gift of memories.
Silver Plated Gifts
A gift of 23 long-stemmed roses is a wonderful way to highlight the number of years in a marriage. Displaying those roses in a silver-plated vase bestows a gift that will be cherished for years to come. A silver-plated gift is a special way to mark the years between 20 to 25 years of marriage. A men's gift might include a pair of silver-plated cuff links, a silver-plated bar set or an engraved silver plated key chain. Gifts for the happy couple might include antique silver-plated candle sticks, a silver-plated frame with a photo of the couple or an engraved ice bucket with a special bottle of Champagne.
Semi-Precious Stones
Most honeymoon locales have a semi-precious stones harvested from that territory, and those stones make wonderful keepsakes and reminders of happy times. Stone may be mounted in a ring, bracelet, necklace, earrings or cuff links. Couples who honeymooned in Hawaii may have a harder time finding a semi-precious stone from those islands due to the quick formation of volcanic rock; therefore, black coral or pearls may be used instead. Semi-precious stones found in the Caribbean may include larimar, caymanite, Caribbean topaz, tourmaline crystal or Caribbean green amber.
The Gift of Travel
A romantic weekend getaway to a favorite spa retreat, or plane tickets for a second honeymoon is a wonderful way to celebrate 23 years of marriage. Travel helps break through old patterns and monotony and allows couples to rekindle romance in everyday life. Travel is a catalyst for living a richer and more loving life. The gift of travel may take many forms -- such as airline gift cards, hotel vouchers, prepaid spa retreats or even travellers checks in foreign denominations.
The Gift of Memories
Happy memories are precious and allow people to relive the happy moments of one's life. Twenty-three years of marriage inspires many memories that have been captured in pictures, music or even favorite movies. Pictures gathered of the happy couple with family and friends may be added to scrapbooks or albums and decorated with memorabilia. A compilation of favorite songs from years past is another great way to relive memories together.
Writer Bio
Katherine Marko has been a professional writer for more than five years. She has attended the University of Toronto for English. Her work has appeared in several online publications. Marko is also a licensed aesthetician with expertise in nutrition and beauty.
Photo Credits
Jupiterimages/Goodshoot/Getty Images