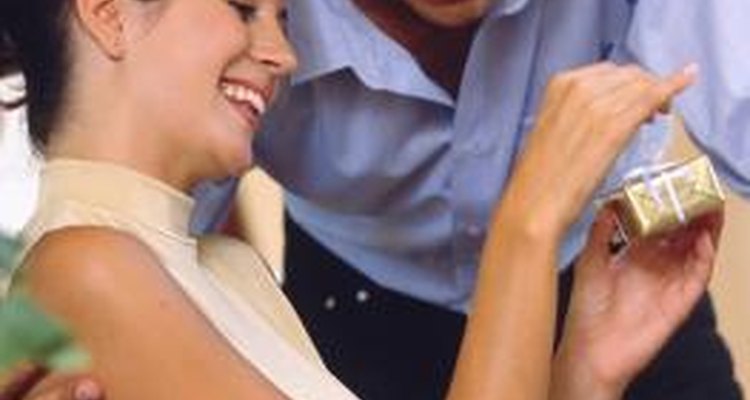 Goodshoot/Goodshoot/Getty Images
The goal of a wedding is a union that lasts a lifetime, but that doesn't mean that those years should be taken for granted. Celebrating wedding anniversaries, particularly the big ones, can be a great way to nurture your relationship and show appreciation for your spouse. Your 15th anniversary is certainly one worthy of extra attention and celebration.
The Gifts
Anniversary gifts are often dictated by a theme for each year, traditional and modern suggestions that can give you a starting point as you search for the perfect present for your spouse. Crystal is the traditional gift theme for the 15th wedding anniversary, while watches are the modern option, according to Hallmark, the indisputable experts on all things celebratory. Consider gifting each other with engraved crystal wine glasses or a his-and-her watch set.
Renewing Your Vows
After 15 years of marriage, you have earned the right to stand up in front of your friends and family and proclaim your love for one another. To further punctuate the years you have spent together, consider incorporating 15 things you love about each other into your vows. Or reflect on your 15 favorite memories as a couple, one for each year of marriage.
The Party
Throw a big party and accentuate the number 15. Consider selecting 15 of your favorite photos together to decorate the venue and using 15 flowers to create centerpieces for each table.
Travel
Embarking on a dream trip as a couple can be an exciting way to celebrate a major anniversary. Put together a list with 15 locations you would both love to see, then close your eyes and point. Wherever your finger lands is where your next adventure as a couple should be.
References
Writer Bio
Living in Alaska, Leah Campbell has traveled the world and written extensively on topics relating to infertility, dating, adoption and parenting. She recently released her first book, and holds a psychology degree (with an emphasis in child development and abnormal child psychology) from San Diego State University.
Photo Credits
Goodshoot/Goodshoot/Getty Images