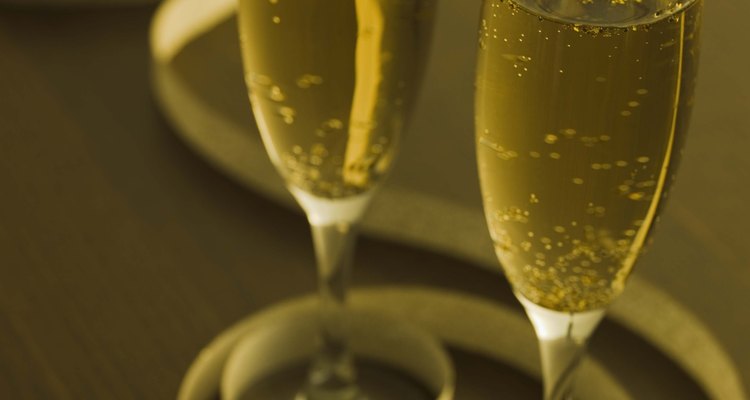 Jupiterimages/Stockbyte/Getty Images
Your 22nd year of marriage may not seem particularly special, but every year of a successful marriage deserves to be recognized. How you celebrate depends on your personalities, the amount of time you have and your budget. Whether you exchange traditional gifts or plan a weekend getaway, keep the focus on your love and spending time together.
Keeping with Tradition
While traditional anniversary lists skip the 22nd year, modern versions list copper as the gift material of choice. If your spouse loves to cook, high-quality copper cookware is a must, known for even heat distribution. For a more romantic gift, you could give your spouse a copper fondue, perfect for romantic evenings with melted chocolate and gourmet cheese. Other gift ideas for your love include golf clubs with copper accents or copper-rimmed dinner plates. Copper jewelry is uncommon, but can be found at specialty stores.
22 Romantic Things
Base your anniversary around the number 22. Leave 22 love notes around the house for your spouse to find, each with a fond memory for every year of your marriage. Present your spouse a card with a coupon for 22 kisses on demand, anyplace, anytime. You could also have an anniversary cake made with the same flavor as your wedding cake, but in the shape of the number 22. Drive around town and look for 22 romantic and secluded spots to kiss. Make a list of 22 romantic places to go to in the next year.
Romantic Getaway
Book a trip to somewhere you both want to go. If you want to incorporate the traditional copper material, you could visit a country known for its high copper production, such as Chile, which has the largest copper reserves in the world. Closer to home, you could travel to Utah, which has a large copper mine. Wherever you choose to go, book romantic accommodations, such as an intimate bed and breakfast inn or a luxury suite in a swanky hotel.
Laid-Back Love
If you are not into big celebrations, you and your spouse can keep things low-key for your anniversary. Go to your favorite restaurant and then to the movies. Sip champagne while watching your wedding video. Send the kids to relatives so you can have a romantic evening at home with no distractions. All that really matters is that you and your spouse are happy and focused on each other on your anniversary.
References
Writer Bio
Based in Los Angeles, Zora Hughes has been writing travel, parenting, cooking and relationship articles since 2010. Her work includes writing city profiles for Groupon. She also writes screenplays and won the S. Randolph Playwriting Award in 2004. She holds a Bachelor of Arts in television writing/producing and a Master of Arts Management in entertainment media management, both from Columbia College.
Photo Credits
Jupiterimages/Stockbyte/Getty Images