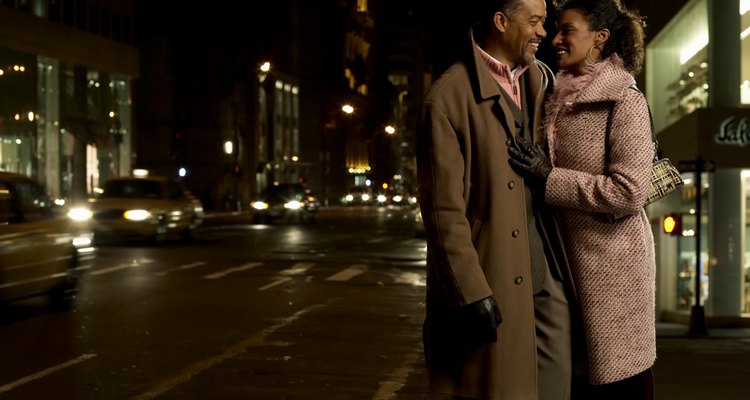 Christopher Robbins/Digital Vision/Getty Images
Finding the right gift for your husband on any anniversary can be challenging, but when it's a milestone year like your 20th, you may want to step it up a notch. Your husband will appreciate anything you give him from your heart, but tapping into his personal likes and preferences will help you find a gift that he would really connect with. China, platinum and emerald are the traditional materials for the 20th wedding anniversary, but don't feel obligated to stick to them. You can use them to guide you, but interpret them how you want to for your husband's gift.
Keeping with Tradition
If you're a fan of tradition, get your husband a gift based around one of the themes for the 20th wedding anniversary. If your husband is a big coffee drinker, you could get him a china coffee mug customized with words that you would use to describe him, such as "strong," "handsome," and "funny." Replace his old wedding band with a new platinum band engraved with your wedding date or a loving phrase on the inside. You could also get him a snazzy platinum watch, which can also be engraved. If you want to incorporate the 20th anniversary gemstone, you could give him emerald cuff links in a platinum setting.
Gifts with a Twist
Think beyond the traditional gifts while keeping with the 20th anniversary themes. Instead of a gift made of china, give your guy gifts related to China, the country. If your hubby is an adventurous eater, take him to the best restaurant in Chinatown and try new dishes you've never had before for your anniversary. If he loves those old martial arts movies, you could surprise him with adult martial art classes where he can learn those cool moves he's always wanted to try. Another idea, is to have a platinum album plaque made to look just like the ones recording artists receive when their music goes platinum. The plaque should include a picture of the two of you and could say something like, "We've gone platinum! Thanks for 20 amazing years!"
20 Years Ago...
Think back to the year you got married and give your husband a gift related to the music, fashion and things he loved back then. Perhaps he has a beloved sports jersey that's been sitting in storage for a while. You could have it framed and hung somewhere in the house. Maybe his giant stash of music cassette tapes have been collecting dust in the garage for years. Enlist the help of his friends to have a tape deck installed in his car so he can enjoy them like he used to. If there was a TV show from 20 years ago that your husband used to love, surprise him with a collector's edition DVD that includes commentary from the cast and a look behind the scenes.
His Dream Trip
Give your husband the gift of a trip away with his friends. For example, maybe he and his buddies have been talking about taking a big fishing trip for years, but there never seems to be enough time. Conspire with his friends to organize the trip and on your anniversary, you could present him with new fishing gear and details of the trip. If a big trip isn't possible, send him on an overnight camping trip with his friends. If he's not the type that likes to rough it, give him a gift certificate to a day spa that offers services tailored to men.
References
Resources
Writer Bio
Based in Los Angeles, Zora Hughes has been writing travel, parenting, cooking and relationship articles since 2010. Her work includes writing city profiles for Groupon. She also writes screenplays and won the S. Randolph Playwriting Award in 2004. She holds a Bachelor of Arts in television writing/producing and a Master of Arts Management in entertainment media management, both from Columbia College.
Photo Credits
Christopher Robbins/Digital Vision/Getty Images