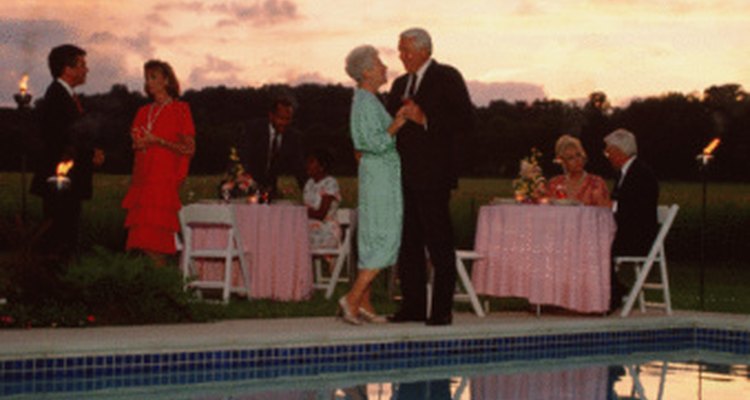 Jupiterimages/Photos.com/Getty Images
The 25th wedding anniversary is a major milestone event for most couples. The 25th anniversary is known as the silver anniversary. Silver is both the traditional and modern gift for this anniversary. Celebrate this anniversary at a big party with friends and family, elect to hold a private celebration with just your spouse. Either way, choose a gift will show your spouse how much you still love and appreciate her.
Silver Gifts For Her
If you wish to give a traditional gift to your wife, then buy her a silver bracelet, earrings, or a silver ring. If you select to give her a ring or a bracelet, include an engraving with your gift. Alternatively, choose to give your spouse silver candlesticks or a silver serving tray. Another option is to place a photograph from your wedding in a silver frame and give her the framed photo as a present.
Silver Gifts For Him
Give your husband a pair of silver cuff links as a traditional gift. Give him a silver watch (or pocket watch), and include a romantic engraving on the watch. If your spouse plan to renew your wedding vows on your 25th anniversary, during the ceremony, present your husband with a new silver anniversary band.
Silver Screen Gifts
If your partner is a movie-lover, take your spouse out for a night at the silver screen. Buy him tickets to a show he's been interested in seeing, and enjoy a fun date night. Or, if you've been planning for this anniversary and you have a large budget, surprise your partner with a trip to Hollywood. During your trip, schedule time to tour the studio lots so that you can get an up-close look at the magic of movies and the silver screen.
Romantic Gifts
Instead of focusing on a silver gift, give your spouse a romantic present to show your affection. Send your wife 25 roses and include a note that lists 25 reasons why you still love her. If your husband is a wine-lover, splurge and buy him 25 bottles of his favorite wine.
Prepare a scrapbook that includes photos and mementos from the last 25 years. Present the completed book to your spouse, and also give her a scrapbook that is empty. Tell her that you will fill the new scrapbook with memories over the next 25 years.
References
Writer Bio
Based in the Deep South, Cindy Roussos has been a full-time writer since 2004. Her work has appeared in such print publications as "Chicken Soup for the Soul" and online at websites such as FamilyTravelFun.com. Roussos graduated summa cum laude with a Bachelor of Arts degree from the University of South Alabama.
Photo Credits
Jupiterimages/Photos.com/Getty Images