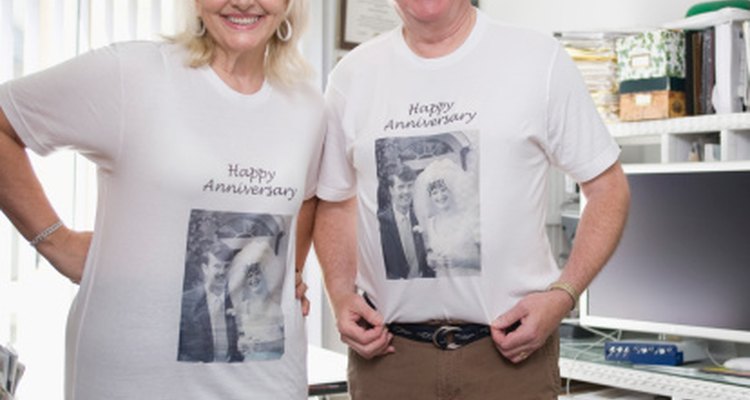 Thinkstock Images/Comstock/Getty Images
Celebrate a couple's 46 years of marriage together with personal and intimate gifts that express the love they have for each other. Some people choose to match an anniversary year with traditional, modern and contemporary gifts. Since the 46th anniversary is not associated with any specific traditional gifts, you can be creative with your gift ideas.
Poetry
The modern 46th anniversary gift is associated with poetry. Consider purchasing your spouse a beautiful leather-bound book filled with poetry from her favorite poet or type of poetry. For a more creative approach, write your own poem and recite it to your spouse over a romantic dinner or write 46 short poems and recite one each day. The Perfect Anniversary Gifts website suggests having your poem written in elegant letters by a calligrapher and then frame it with a picture from your wedding day. To surprise your spouse, compose a song and ask a singer to preform it with a tribute to your spouse while at dinner. Share the love you have for your spouse by publishing your love poem in a local newspaper so your entire community can see how much you love each other.
A Romantic Evening
For your 46th wedding anniversary, plan a romantic evening filled with your spouse's favorite entertainment and food. Make reservations at your spouse's favorite restaurant or prepare a home-cooked meal either by yourself or hire a chef to go to your house to prepare it. Create a romantic atmosphere with flowers, candles and soft music playing in the background. After a romantic dinner, surprise your spouse with tickets to a local theater production, dance performance, movie or sporting event. Consider hiring a limousine stocked with Champagne to drive you to both dinner and the location after.
Jewelry
A common anniversary gift, jewelry allows couples to select from various necklaces, bracelets, rings and watches, all of which can be personalized with inscriptions. To incorporate the modern gift of poetry, consider having a few words from your spouse's favorite poem engraved on a necklace or watch. When buying jewelry for your spouse, first consider her preferences such as silver or gold or diamonds or gemstones. Also see which jewelry she already owns so you do not buy something too similar. If you are struggling to find a piece of jewelry, choose something that complements one she already owns. For your husband consider having a pair of dog tags personally engraved or consider a watch or cuff links to match his favorite suit.
Scrapbook
Record significant memories and events from your marriage in a scrapbook full of pictures, special notes and mementos. Include pictures from the time you first met and began dating and attach any love notes or poems that you wrote to each other in the scrapbook. Have wedding pictures in your scrapbook along with special notes about your memories from that special day. If possible allow family and friends to write any significant memories they have of the couple in the scrapbook. Also include photos of the couples children and grandchildren and allow them to write notes congratulating the couple on their 46th wedding anniversary.
Photo Credits
Thinkstock Images/Comstock/Getty Images