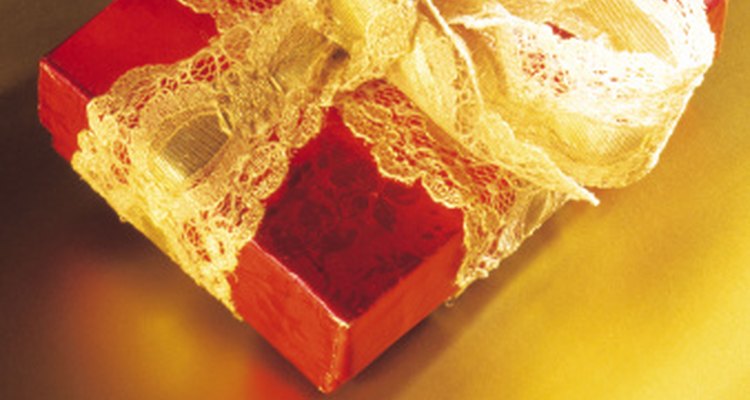 Comstock/Comstock/Getty Images
Your 10th wedding anniversary is a special time to celebrate with your husband. After a decade of anniversary gifts you may find you've run out of ideas. Look to the gift lists to give you inspiration when shopping for him. Whether it's a traditional gift of tin, the modern gift of aluminum or the gemstone diamond, you can find a gift to suit his lifestyle.
Tin
Tin is the traditional 10th wedding anniversary gift. You can buy items suitable for your husband made from tin and pewter, an alloy metal comprising primarily of tin. Cook him a selection of cookies and give them to him in an antique cookie tin. Buy him an antique tin ornament, like a car or a plane. Choose a pewter photo frame and place your wedding-day picture in it -- he can put it on his desk at work to remind him of your happy day.
Aluminum
The modern gift to exchange is aluminum. If he enjoys exercise and the outdoors buy him a mountain bike. Choose an expensive digital camera, which is made from aluminum. If he chooses to spend his spare time fishing, buy him an aluminum fishing rod. Another idea is picking out a fancy designer pair of sunglasses with a metal frame. A treat that is sure to put a smile on his face is some aluminum cans of beer. Buy him a month's supply of his favorite brand of beer -- if you're feeling very generous, buy him a year's supply.
Diamond
The gemstone associated with a 10th anniversary is diamond. Buy your husband some diamond cuff links and a matching tie clip. You could also update his wedding ring by buying him a new one with diamonds. Alternatively, choose a new watch studded with diamonds. Have the jeweler inscribe the watch with a personal message written by you.
Personalized Gift
Create a photo album of your 10 years of marriage. Include favorite holiday pictures, your wedding day and other pictures taken on special occasions. Another idea is to buy 10 small gifts to represent the 10 years you've been married. Or create a gift basket with your husband's favorite foods, drink and cigars for him to enjoy on your anniversary. You could also cook him a romantic, candlelit three-course meal.
Vacation
A vacation is an ideal way to spend some quality time with your spouse. Book 10 nights at the hotel you stayed at for your honeymoon. Or, pick your husband's dream destination and spend 10 days and nights exploring the place. If you want to continue the theme of diamond, visit Crater of Diamonds State Park in Arkansas. It's a diamond mine for the public to come and find their own gems. You could also book a trip to Diamond Island Resort on the east coast of Tasmania in Australia.
References
Photo Credits
Comstock/Comstock/Getty Images