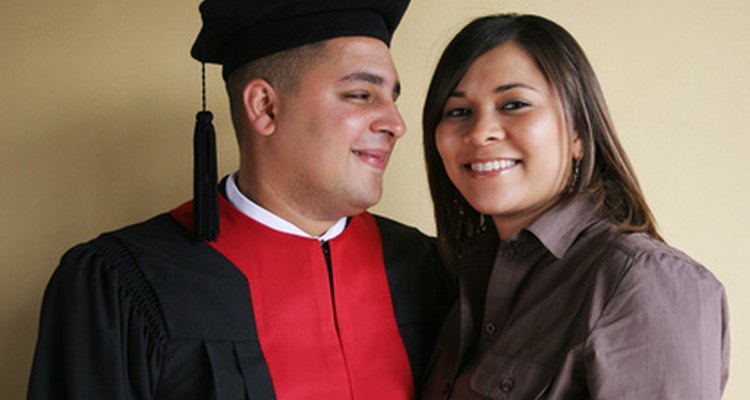 university graduation celebrates his graduation with his girlfri image by Gina Smith from
Fotolia.com
Whether your husband is graduating from college, graduate school or another higher education program, his matriculation is a notable accomplishment and a big deal for him as well as for you and the rest of your family. It could mark the start of a career, or an advancement in a certain profession he's been working in. Either way, it will have an impact on your life together. Celebrate his accomplishment with a gift that commemorates his special day in a way he won't soon forget.
Graduation Getaway
Celebrate your husband's graduation with a getaway for two. Think about a place that he's mentioned that he's always wanted to visit or a sight that he's been yearning to see in person. It could be anything from a tropical vacation in Hawaii, to wine tasting in the Napa Valley or a romantic trip to Paris. This is a gift that will wow him and give the two of you a chance to getaway and relax now that his hard work in school is over.
Brand New Laptop
Give your husband a gift he can use for years to come: a brand new laptop. This can help him make the transition from college to a new job, or from a master's degree or Ph.D. level program into a higher-level position.
While PCs tend to be cheaper, choosing a Mac laptop can often be a better choice, specifically for those who are pursuing fields where they will need digital imaging software or video editing software.
Inspirational Books, Pens and Portfolios
Surprise your husband with an inspirational gift that he will cherish. According to Life123, giving him an inspirational book penned by a businessman, spiritual leader or political figure who he admires can be a great way to help him lift his spirits on tough days at the office. In addition, a portfolio can be a great tool for him if he plans to hunt for jobs after graduation. Take that gift up a notch by engraving the portfolio and a pen set to go with it. That way he can use it as a keepsake for years to come.
Gadget Gifts
Giving your husband a gadget gift is also a great way to celebrate his graduation. These should be mature gadget gifts, like a new navigation system for his car, or wine-related gadgets including automated wine chilling systems, aerators and uncorking devices paired with a vintage bottle of his favorite wine. Gadget accessories for his computer or laptop that will make his life easier are also good ideas. For example, a new all-in-one printer or an innovative software program that he can use for work.
References
Photo Credits
university graduation celebrates his graduation with his girlfri image by Gina Smith from Fotolia.com