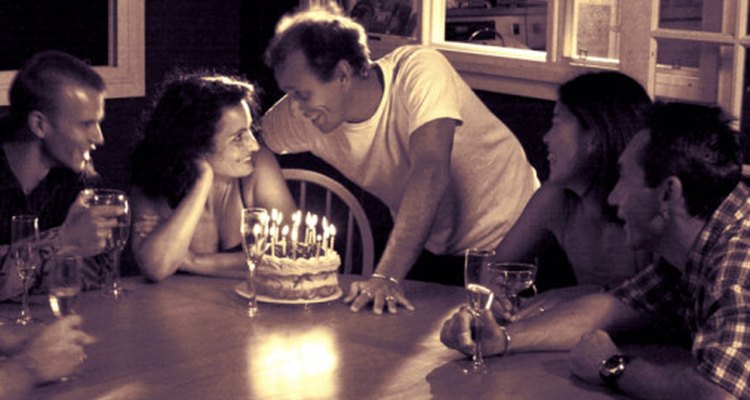 Jupiterimages/Photos.com/Getty Images
For some men, turning 30 means the end of an era, a turning point in their lives that signifies the time to buckle down and concentrate on seriously preparing for the future. If the man you married thinks this way, plan a celebration to kick off the next phase of his life. Focus on his hobbies and dreams and decide on the most exciting one to make come true when you celebrate your husband's 30th birthday.
Take him to his dream golf course, the one that he watches on television and dreams of getting to play. Include a lesson with a pro and you will make his millennium. There are state-of-the-art golf courses in most states that have PGA instructors on staff to help your husband with his swing. Many golf resorts offer specially priced packages for just such an occasion, as a 30th birthday.
Throw him a surprise party at his favorite pub. Invite friends, family and co-workers to make this a huge bash. Throw in a little extra and have a microbrew made in his honor for everyone to partake. You can find online companies that can fulfill this type of gift request or some local microbreweries that will offer special packages, and even include a label with your husband's name and date commemorating the special birthday.
Fulfill an item on his bucket list. Even though he is only turning 30, odds are he has had a list, made of all the crazy things he wants to accomplish, since he was a very young man. If driving a racecar is on his list, book him a time slot at a local racetrack to drive with a professional driver. Hang gliding or skydiving is a typical bucket list item that you can schedule easily in most areas. Remember the camera to record the event for future reminiscing.
Book a trip to the land of his ancestors. If he is big on his family history, a trip to learn about his family history is just the way to bring in this important time change in his life. Plan this trip far in advance if the trip you take is in another country or many miles from home, to get the best deal.
Plan an intimate weekend away for just the two of you if he is an introvert and enjoys alone time with you above all else. Local hotels and resorts often offer special birthday discounts or all-inclusive packages that include a special dinner, champagne toast and birthday dessert.
References
Writer Bio
After attending the University of Missouri St. Louis, Stephanie Rempe worked as a documentation manager in the finance industry 10 years before turning to her first love, writing, which she's been doing professionally since 2008. She currently divides her time between Missouri and her fiance's hometown in Oregon. In addition to her freelance writing, Rempe is working on a romance novel and short stories.
Photo Credits
Jupiterimages/Photos.com/Getty Images