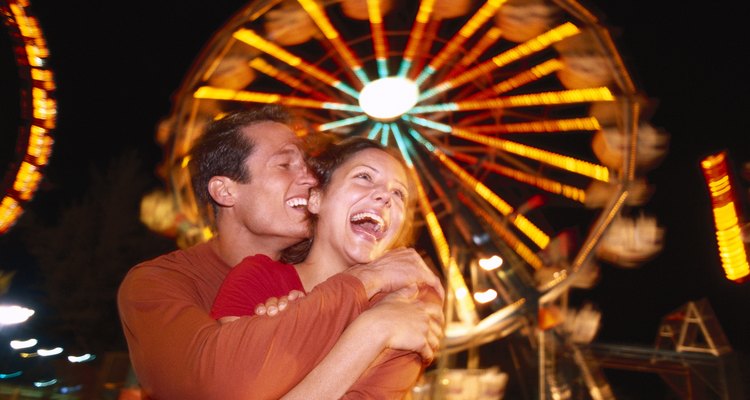 Stockbyte/Stockbyte/Getty Images
Whether you are celebrating an anniversary or want to treat your boyfriend to a special evening, you don't have to settle for dinner and a movie. Invest a little creativity -- and everything you know about your boyfriend's personality and hobbies -- to come up with the ideal itinerary for an extraordinary night.
Get Romantic
Mesmerize your boyfriend with an evening of romance on the beach. Take a picnic. Go for a stroll and collect seashells along the shore. If there aren't beaches nearby, revisit the site of your first date or the place where you met. Arrange to go horseback riding late at night and have a picnic under the stars. If you don't have time to plan an extravagant evening, pick up a bottle of champagne and get cozy in front of the fireplace.
Find Your Inner Child
Spend the day at a local amusement park, carnival or fair for roller coaster rides, games and cotton candy. If it is too hot to wander around the theme park, surprise him with an afternoon of wave pools and water slides at a water park. Play miniature golf or laser tag or speed around a race course in go-carts. If your boyfriend loves video games, take him to an arcade. Go tobogganing in the winter and paddle boating in the summer.
Know Your Guy
Show your boyfriend how well you've gotten to know him by planning a date that is all about him. Pick up tickets to see his favorite football team play. If dating on a budget, buy snacks and watch the game together on TV. If he's an art or history buff, plan a trip to a gallery or museum. Look for historical houses and sites that are open late. Take your boyfriend to his favorite restaurant. Make the evening different by ordering backward, beginning with dessert. Alternatively, cook his favorite meal at home or whip up a batch of his favorite goodies and enjoy them while watching his favorite film.
Make Memories
Make a time capsule to open on a particular anniversary. Each of you can choose items that symbolize your relationship, such as the stubs from your first concert or movie together, meaningful photos and love letters. Seal them in a box. Stash it somewhere safe. Alternatively, capture new memories for a future time capsule. Grab a digital camera and make a list of the places you would like to snap a photo together. If you are a dramatic couple, make a movie together.
References
Writer Bio
Rosenya Faith has been working with children since the age of 16 as a swimming instructor and dance instructor. For more than 14 years she has worked as a recreation and skill development leader, an early childhood educator and a teaching assistant, working in elementary schools and with special needs children between 4 and 11 years of age.
Photo Credits
Stockbyte/Stockbyte/Getty Images