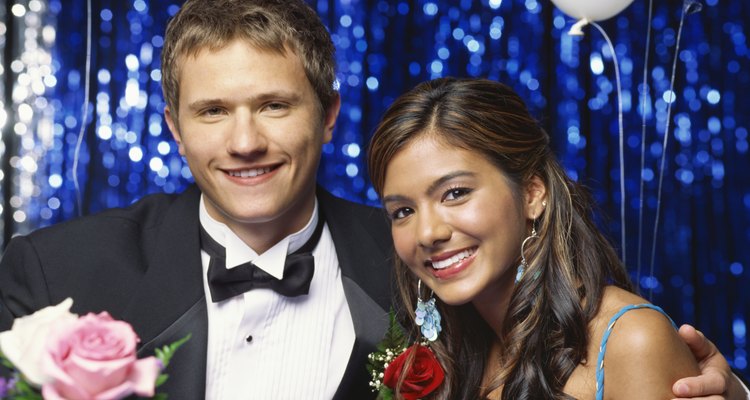 Stockbyte/Stockbyte/Getty Images
A dance will be one of the festivities planned for your high school's Homecoming Week in early fall. Whether you're going with your boyfriend or girlfriend or even a close friend, you'll want it to be a memorable night for the both of you to reflect back on. Groove together at the Homecoming Dance and then head out afterwards to do something fun to continue your date.
Grab a Sweet Treat
Since you may have already eaten at the dance, end the evening on a sweet note by going somewhere to get dessert. Head to an all-night diner for dessert. Order stacks of pancakes with different fruit toppings and whipped cream to munch on or put two straws in a flavored milkshake or malt to share. Ask your server to snap a picture of you both all dressed up eating your treats as a keepsake for your date. Alternatively, take your date back to your place and set up assortment of ice cream toppings and have fun making your own banana splits or sundaes.
Get Your Game On
If you and your date aren't too tired after a night of dancing, let out the rest of your energy with friendly competition. Head to a late-night bowling alley, change into comfortable clothes and get ready for cosmic bowling. Disco lights are put on and the music is turned up louder. You both can use glow-in-the-dark balls to knock down the pins and dance in between your turns. Or, go to a game entertainment center, such as Dave and Buster's, and try to beat each other's score at classic arcade games. Give your date your winning tickets to get a larger prize.
Catch a New Movie
The movie theater will be open late for your enjoyment. Grab a few snacks from the concession stand and decide on a movie you both would like to see. Different movie genres will evoke different feelings between the two of you. Catch a romantic comedy or animated film if you want to laugh together or see a thriller if you want to shield yourselves from fright in each other's arms. Alternatively, skip the movies and invite your date over to your place. Dim the lights to create a theater atmosphere, grab some popcorn and snuggle up on the couch to watch a new release.
Roll the Night Away
Late-night skating will provide hours of fun for you and your date. Renting skates at the rink will be reasonable for your budget as well. Lace up your skates, grab your date's hand and hit the rink. Be there to catch each other if either of you fall. If you're an advanced skater and your date is a beginner, take the opportunity to guide them by giving them a few pointers about the world of skating. You can even try skating backwards to make each other laugh. Alternatively, you can skip rolling and find an indoor ice skating rink to glide across ice together instead.
References
Writer Bio
Wannikki Taylor is a professional writer with a Bachelors of Arts in journalism from Temple University. She serves as a children's columnist and covers family entertainment for several print and online publications. She specializes in games, crafts and party planning ideas for kids and their families.
Photo Credits
Stockbyte/Stockbyte/Getty Images