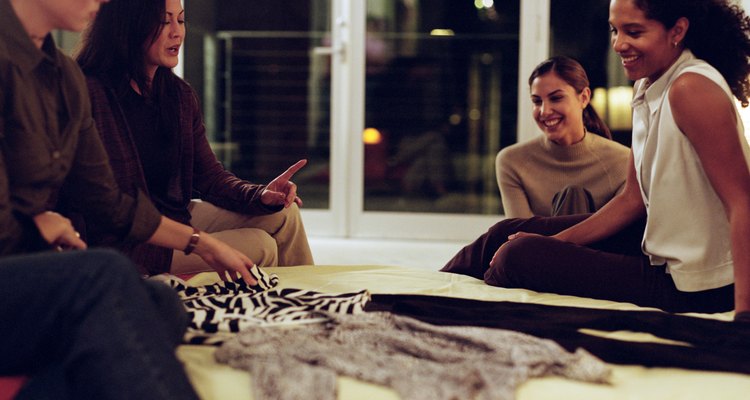 Ryan McVay/Photodisc/Getty Images
You love spending time with your gal pals, but between your schedules and those of your kids, there never seems to be enough time for you to just hang out. Make arrangements for the kids to go camping with dad or spend the night at a friend's house, then enjoy some middle-of-the-night fun with your best friend. Whether you spend a night on the town, visit a couple of all-night restaurants or invite several friends for a girls' night in featuring comfy clothes, favorite movies and indulgent snacks, you can revel in the pure joy of a no-kid, no-husband, schedule-free night.
All-Night Dining
Grab a friend, and treat yourself to a kid-free dinner -- no kids' meals, spilled juice or gummy fries. If you're in or near a big city, you might have a choice of restaurants that stay open late, or even all night long. Even if you're not in a large urban area, you can still enjoy a midnight dinner with a friend. It may not be glamorous or high-brow, but even eating at an all-night diner, burger place or pancake house can be fun and relaxing when you're doing it with a good friend and no family members in tow.
Clubs and Casinos
For more excitement than a simple dinner out might offer, put on your dancing shoes or little black dress, and hit the clubs with a friend. Visit that trendy spot you have been wanting to try out, or arrange to meet friends for a night of club hopping. Alternatively, consider visiting a casino. Most are open until the wee hours, and in some states even around the clock. Try your hand at blackjack, or enjoy the excitement around the craps table. You don't even have to gamble to enjoy being at a casino: Spend time at one of the casino's restaurants, trendy bars or listen to a live band in the lounge.
Girls' Night In
You don't have to go out to have a fun night with a friend. Plan a girls' night in or even a moms' sleepover. Send the kids to grandma's house, or gather at the home of a single gal pal. Be comfy in your sweats or favorite PJs, wear your favorite fuzzy slippers, and simply enjoy a night of doing absolutely nothing that requires intellectual engagement or spending money. Give each other manicures and pedicures, try out new hairstyles, then curl up with some popcorn, tissues and a batch of weepy chick-flick DVDs. If movies aren't your thing, host a moms-only all night bunco or poker game, with heavenly snacks and a few adult beverages.
Adventure at Night
Pick an activity that will get you out of the house. In some urban areas, galleries, museums and even the zoo occasionally host "adults only" late-night events -- enjoy the exhibits and some adult refreshments. Have a midnight picnic on the beach, go camp out with the girls, or go stargazing away from the city lights. For an entirely different kind of fun, try ghost hunting. Look for an organization in your area that takes groups on midnight runs to old mansions, barns or other locations believed to be haunted. Whether you "find" a ghost or not, enjoy the fun of poking around in funky old places with your friend.
References
Writer Bio
As a national security analyst for the U.S. government, Molly Thompson wrote extensively for classified USG publications. Thompson established and runs a strategic analysis company, is a professional genealogist and participates in numerous community organizations.Thompson holds degrees from Wellesley and Georgetown in psychology, political science and international relations.
Photo Credits
Ryan McVay/Photodisc/Getty Images