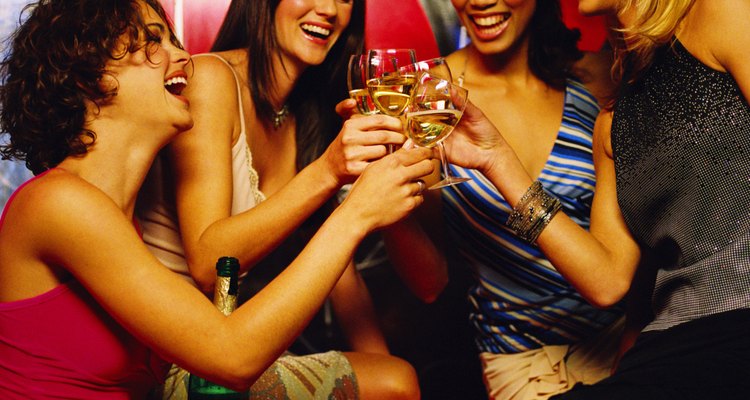 Stockbyte/Stockbyte/Getty Images
Whether you're meeting friends you haven't seen in a while or staying out late with best buddies, fill the nighttime with engaging activities that will hold you over until you venture out again. You can surprise your group with an itinerary of activities or take turns choosing what comes next. Regardless of who is in charge of the agenda, be sure to bring along a camera to capture the best moments of the night.
Adventure
Let your adventurous side loose when nighttime falls and find out what your area has to offer. You can look for a go-cart facility for a late-night race or find a bowling alley with late hours for a glow-in-the-dark bowling competition. Whether you are 24 or 42, a game of flashlight tag at a local park will keep you and your friends occupied while getting exercise. You can hike along walking trails, toboggan down hills in winter, put on roller blades for a speedy trek around town or throw a birthday party in the park -- even if no one in the group is celebrating a birthday. When you are done, do your part for the community and clean up the park.
Entertainment
Find a band you've never heard before or a billiards venue open late for pool and darts. You can laugh a little among good company at a local comedy club or find a movie theater with a late show. If group members don't wish to venture outdoors, find a superstore open 24 hours and issue a challenge -- putting together the best outfit or searching for the best home decor. You can make your own entertainment if there is none to be found around town. Relive your youth with a game of truth or dare.
Relaxation
Spend an hour or two at a local coffee shop you've never visited for a change of scenery and good conversation. Take your coffee outside for fresh air and banter on a warm summer night. Look for the most extravagant or unique homes around you. If you are planning your late night get-together ahead of time, book a room at a local hotel so your group can swim in the indoor pool or hot tub until everyone collapses. If there aren't relaxing venues in your area, get lost in the surrounding countryside with your pals. Bring along a map and a phone in case you can't find your way back.
Late Night In
If there's nowhere to go or you don't want to venture out, entertain your friends at home with a late-night baking session. Pull out the recipe book and work together on everyone's favorite desserts. Make a full meal if you are in the mood for something more substantial. If short on boredom busters, hold a film fest. Choose a theme for the movies, such as horror or comedy. Turn the TV into a game. Flip through the stations and the first person to name the show earns a point; the most points wins the game. You can redecorate a room with only the materials you can find in the house or take a few drinks outside on a warm night and relax together under the stars.
References
Family Fun Nights: 140 Activities the Whole Family Will Enjoy; Lisa Bany-Winters; 2006
Writer Bio
Rosenya Faith has been working with children since the age of 16 as a swimming instructor and dance instructor. For more than 14 years she has worked as a recreation and skill development leader, an early childhood educator and a teaching assistant, working in elementary schools and with special needs children between 4 and 11 years of age.
Photo Credits
Stockbyte/Stockbyte/Getty Images