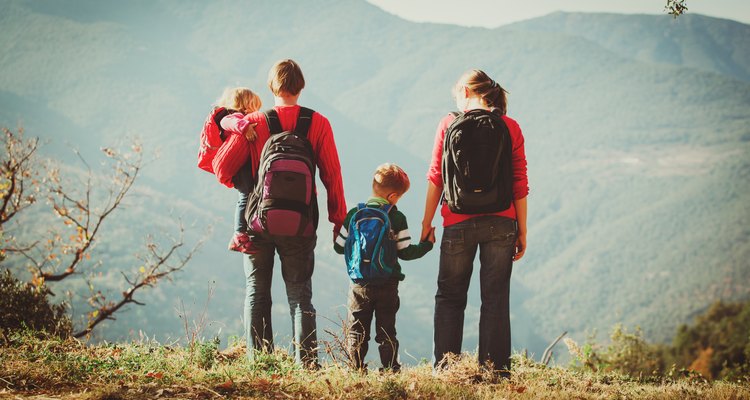 Nadezhda1906/iStock/GettyImages
Five Family-Friendly Attractions for Kids of all Ages
Located in Western Tennessee, Gatlinburg continues to be a popular destination for families looking for a vacation that accommodates all ages and interests, from enjoying nature to competing at mini-golf to taking in eclectic museums . In addition, this mountain locale features sites, attractions and activities for every budget.
1. Great Smoky Mountains National Park
Literally in Gatlinburg's backyard, the Great Smoky Mountains National Park welcomes families to get outside and play. There are many hiking trails available for every age and fitness level, many with geocaches along the way. Travel part of the Appalachian Trail, take a wildflower walk or head to one of the park's many waterfalls. The best part of hiking (aside from the cost: free) is that it can be as long or as short as you want. Stop by Sugarlands Visitor Center (1420 Fighting Creek Gap Rd., Gatlinburg, TN) two miles south of Gatlinburg, and pick up a trail map to choose a course.
2. Ripley's Attractions
With eight attractions in Gatlinburg, Ripley's invites visitors to sample everything from thrills and chills to movie memorabilia and games of skill. Check out aquatic life at the Aquarium of the Smokies (88 River Rd., Gatlinburg,TN), see if your eyes are playing tricks on you at Ripley's Believe it or Not! Odditorium (800 Pkwy., Gatlinburg, TN), or get scared at the Haunted Adventure (908 Pkwy., Gatlinburg, TN).
Challenge each other to mini-golf at two different courses at Ripley's Davy Crockett Mini-Golf (188 Parkway, Gatlinburg, TN), see who can escape the Marvelous Mirror Maze (623 Parkway, Gatlinburg, TN) first, or hang on for adventure at the 5D Moving Theater (908 Parkway, Gatlinburg, TN). At the Guinness World Records Adventure (631 Parkway, Gatlinburg, TN), not only can you learn about amazing feats performed around the globe, you also can try to beat these records during your visit. Single-attraction tickets start at $8.99 for adults and $7.99 for children, but per-person costs can be reduced when purchasing combination tickets for more than one attraction.
3. Ober Gatlinburg
Overlooking downtown Gatlinburg, Ober Gatlinburg Ski Area and Park (1339 Ski Mountain Rd., Gatlinburg, TN) provides year-round entertainment. In the winter, the ski area invites skiers of all ages and skill levels to hit the slopes, go snow tubing or just play in the snow. When the snow is absent, check out the views on the aerial tramway, the scenic chairlift or the ski mountain coaster. Other activities include ice skating, mini-golf, chair swings, wildlife encounters and more.
There are also several restaurants where families can take a break and relax over a good meal. Budgeting for a day at Ober Gatlinburg depends on how many family members are visiting and the activities they want to try.
4. Gatlinburg Space Needle
Seattle is not the only city with a landmark space needle; the Gatlinburg Space Needle (115 Historic Nature Trail, Gatlinburg, TN) rises 407 feet into the air, providing spectacular views of downtown Gatlinburg and the surrounding areas. Take the elevator to the observation deck, where you can get an up-close-and-personal look at the landscape, thanks to the free viewfinders. The Space Needle also is home to the following attractions: Arcadia, a two-story arcade; the Iris Theater, which showcases live shows and entertainment; and Slice Pizza Bakery, serving up New York pizza. Tickets to ride the elevator in the Gatlinburg Space Needle are $10.95 for adults, $5.95 for kids ages 4 to 11, and $7.95 for military and seniors age 60 and older. Pricing for the additional attractions and restaurant vary based on activities, shows and menu items.
5. Hollywood Star Cars Museum
Car enthusiasts will love the auto memorabilia at Hollywood Star Cars Museum (914 Parkway, Gatlinburg, TN), home to cars and vehicles from some of the biggest movies of the last 50 years. These include cars from "The Fast and the Furious" movie franchise, the Batmobile from "Batman Returns," the Mello Yello race car from "Days of Thunder," and even the jalopy from "The Beverly Hillbillies." Online tickets are $10.99 for adults and $5.99 for kids ages 6 to 12; tickets at the box office are $12.99 for adults and $6.99 for kids ages 6 to 12. Kids age 6 and younger are free.
Of course, these are just starting points for all the family-friendly entertainment and attractions found in Gatlinburg. There is a lot more to do, so plan on more than one family vacation to see and experience it all. Plus, Gatlinburg is a year-round destination, so there is no wrong time to visit, even in winter. In fact, snow makes everything better!
References
Writer Bio
Karon Warren has covered travel for nearly 20 years with numerous print and online publications. Her byline has appeared in USA Today, USA Today's 10 Best, WorkingMother.com, FamilyVacationCritic.com. and many others. She is a member of both the Society of American Travel Writers and the American Society of Journalists and Authors. In addition to her freelance work for other clients, she also writes for her own travel site, ThisGirlTravels.com