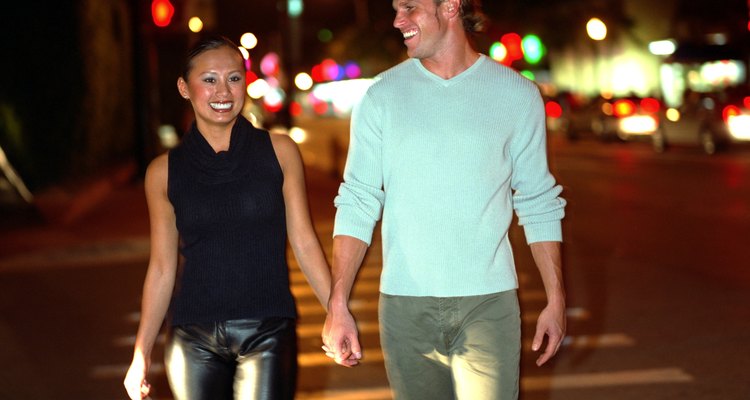 Creatas/Creatas/Getty Images
For some, the evening doesn't begin until after 10 p.m. When you're planning a date, however, this can sometimes be problematic, as some restaurants and entertainment centers start to shut down around that time. Fortunately, for others, the night is just beginning, especially if you live near a big city. Even if you don't, some creativity and adventure is all you need.
Food Fun
Depending on where you live, you may have several options for a late night dinner date. To make the date exciting, go to a restaurant for just appetizer and drinks. Go to a different restaurant for the main meal, and then head to one known for its amazing desserts. Don't go for your usual dessert, either. Be spontaneous and get the restaurant's signature or your server's suggestion. Try a gourmet dark-chocolate, whipped-cream cake, creme brulee or a plate of petit fours. Some diners have excellent food, and you can spot your usual group of neighborhood pals. Many are open 24 hours a day. The interesting people you are bound to see walk through the doors late at night are sure to entertain. See who can come up with the funniest backstory on the other people in the diner.
Recreation
Plenty of recreational activities exist for you and your date late at night. On weekend nights, many bowling alleys stay open until midnight or beyond, serve adult beverages and have glow-in-the-dark bowling. Some even have a D.J. to spin the latest tunes. Karaoke bars are always open late and makes for a hilarious date experience, especially if one or both of you are not strong singers. Another idea is to create a scavenger hunt that you and your date can do together. You can find generic scavenger hunt lists from a number of websites, which include lists for nighttime scavenger hunts. Print one out and see how many items you can find or tasks you can complete together for the most random adventure date ever.
The Great Outdoors
If you live near the beach, have a nighttime beach date. Using flashlights or camping lanterns to see and bring a picnic meal to enjoy on the sand, while listening to the crashing waves in the background. You can also get playful with each other on the beach. Have a sand foot race, or a sand castle competition. Stay out of the water, however. A spontaneous dip in the ocean might sound cool, but it is downright dangerous at night with no lifeguards around. Another idea is to see if any zip line companies near you have nighttime ziplining experience, such as ZipQuest in Fayetteville, North Carolina or Adventure Ziplines of Branson in Missouri. Stay close to home and pitch a tent in your backyard. If you have a fire pit, you and your date could roast marshmallows, and then tell ghost stories around the fire. Hop into the tent for a romantic rendezvous.
Entertainment
If you and your date are excited about a blockbuster movie coming out, plan a date to go to the midnight screening on the day it is released. Choose the best theater in town and get your tickets as soon as they go on sale. Plan movie trivia questions to keep yourselves entertained while you wait in line. If the movie is part of a major franchise, you're likely to be in line with a bunch of super fans, some who may be dressed in costumes, which only adds to the fun. Another late night experience that's almost always a blast is going to a music concert. Skip the pricey headliner concert at a stadium, and opt for a band playing at a local dive bar or nightclub, making the experience more intimate and cool.
References
Writer Bio
Based in Los Angeles, Zora Hughes has been writing travel, parenting, cooking and relationship articles since 2010. Her work includes writing city profiles for Groupon. She also writes screenplays and won the S. Randolph Playwriting Award in 2004. She holds a Bachelor of Arts in television writing/producing and a Master of Arts Management in entertainment media management, both from Columbia College.
Photo Credits
Creatas/Creatas/Getty Images