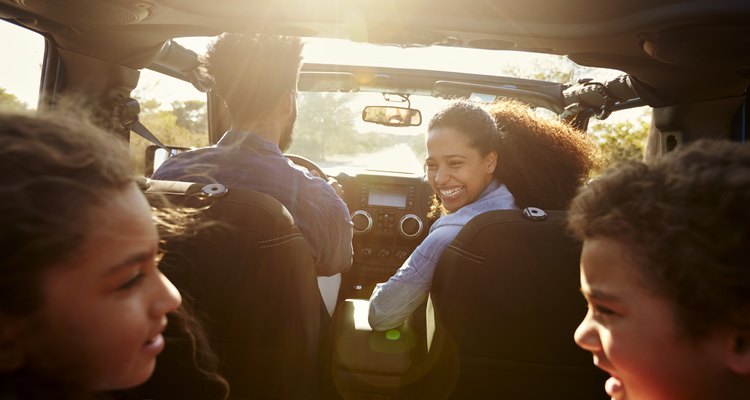 monkeybusinessimages/iStock/GettyImages
Where To Go on Your Next Family Road Trip
Are you looking for somewhere new to go on a family driving trip? Whether it's for summer vacation, a pre-Christmas holiday, or just because, here are a few destinations to spark your trip-planning imagination.
Rockbridge County, Virginia
A road trip to the Shenandoah Valley provides a trip filled with history, the outdoors and lots of family activities. A three-hour drive from Washington, D.C., the county includes the college town of Lexington, the rural community Buena Vista and the town of Natural Bridge.
At Natural Bridge State Park (6477 South Lee Hwy., Natural Bridge, VA), visitors can walk under the famous bridge once owned by Thomas Jefferson, and then up to Lace Falls waterfall. There's a Monacan Indian Village at the site where you can learn about the area's indigenous people.
No matter the weather, see the underground stalactites and stalagmites nearby at Natural Bridge Caverns (6313 South Lee Hwy., Natural Bridge, VA). Take a break from driving on the road and drive through the Virginia Safari Park (229 Safari Ln., Natural Bridge, VA), a 180-acre, drive-through zoo where you can feed the free-roaming animals from your car.
There's plenty of beautiful hikes to do for free on the Chessie Nature Trail, the Appalachian Trail and the Devil's Marbleyard on Belfast Trail. Or take a walk within the city of Lexington past historic houses including that of "Stonewall" Jackson and of Robert E. Lee, and see if you can learn the reason why the doors to Traveller's barn, General Lee's horse, are always kept open.
If you need to get out of the weather or have young history buffs in the family, go into Lexington and check out the military history at the Virginia Military Institute Museum (415 Letcher Ave., Lexington, VA) and the George C. Marshall Museum (101 West Nelson St., Lexington, VA).
At dusk, take a slightly scary ghost walk with Haunting Tales Lexington's Ghost Tour (17 South Randolph St., Lexington, VA), and then stop for a waffle cone at Sweet Things Ice Cream (106 West Washington St., Lexington, VA). End the night with a two-for-one double feature at Hull's Drive-In (2367 North Lee Hwy., Lexington, VA).
Casual kid-friendly eateries include JJ's Meat Shak (1607 Magnolia Ave., Buena Vista, VA), the Sheridan Livery Inn and Restaurant (35 North Main St., Lexington, VA), and the Southern Inn Restaurant (37 South Main St., Lexington, VA) for fried chicken.
Reasonably-priced accommodations are at Natural Bridge Historic Hotel & Conference Center (15 Appledore Ln., Natural Bridge, VA). Or stay in a unique vacation rental—the fully-restored 1926 C&O Caboose (6 Homeaway Ln., Natural Bridge, VA).
Nashville, Tennessee
Nashville is chock full of adventures for kids and is an easy drive from all surrounding states. Be sure not to miss the Adventure Science Center (800 Fort Negley Blvd., Nashville, TN). At this interactive science museum, kids can learn about dinosaurs, physics, the solar system and even try out a moon walking simulator. Kids find it much easier to walk in 1/6 gravity than adults do! The Science Center is the ideal spot if it's pouring or if Nashville's sunshine makes it too hot to stay outside for long.
Nashville has several other museums including the Country Music Hall of Fame (222 Fifth Ave. South, Nashville, TN). The Frist Center for the Visual Arts (919 Broadway, Nashville, TN) has an interactive area where kids and adults can try out their artistic skills and create something of their own. Children 18 and younger always have free admission at the Frist.
Just outside of Nashville is the Nashville Zoo at Grassmere (3777 Nolensville Pike, Nashville, TN). Kids can see all kinds of North American and international animals and work off some sitting-in-the-car-too-long energy at America's largest community-built playground park.
You can bring your RV or rent a cabin at Nashville Shores (4001 Bell Road, Hermitage, TN), which also features a 385-acre water park and a treetop adventure park. Cheap and cheerful meals can be found at Hattie B's Hot Chicken (several locations including 112 19th Ave. South, Nashville, TN) and Martin's Bar-B-Que (several locations including 410 Fourth Ave. South, Nashville, TN). Kids especially love Frothy Monkey (several locations including 2509 12th Ave. South, Nashville, TN), with its friendly atmosphere and special kids' menus. A stop by The Bang Candy Company (1300 Clinton St., Nashville, TN) for homemade marshmallows will bring cheers. Snap some photos by the "I Believe in Nashville" mural next door.
Kids will love the immense garden (have them search for the teddy bear tree and the jumping water fountains) and waterfalls of the Gaylord Opryland Resort (2800 Opryland Dr., Nashville, TN). The indoor and outdoor pools will keep them occupied for hours. The hotel is extra special to visit for the holidays because guests can marvel at the ice sculptures, millions of Christmas lights and a tubing hill built out of real snow.
Branson, Missouri
Branson is another great place to get into the Christmas spirit. November and December will have crisp but usually sunny days.
Take the kids on the Ride The Ducks (2320 W Hwy. 76, Branson, MO) tour in an amphibious vehicle with a splashdown in the lake. At Dogwood Canyon Nature Park (2038 MO-86, Lampe, MO) which sits on the Missouri-Arkansas border, kids can feed fish and see animals like elk and deer. The Track Family Fun Park (3345 West 76 Country Blvd., Branson, MO) has all sorts of games, as well as the Ferris wheel formerly at Chicago's Navy Pier. The interactive Titanic Museum (3235 West 76 Country Blvd., Branson, MO) gives every visitor the ticket of a real passenger so they can almost feel first hand what it was like to sail on this famous ship.
Reserve a whole day to spend at Silver Dollar City (399 Silver Dollar City Parkway, Branson, MO) to see Marvel Cave, learn about American crafts, ride the rides, admire over five million Christmas lights, and watch the Holly Jolly Christmas Light Parade.
The singers at Mel's Hard Luck Diner (2800 MO-76, Branson, MO) provide lots of entertainment over lunch or dinner (and incredible desserts too). The kids can do their Christmas shopping at Dick's Oldtime 5 & 10 (103 West Main St., Branson, MO), which has unique and moderately-priced items, including old-fashioned candy that you won't have seen for years. Get a family photo taken dressed in period costume at Branson's Famous Old Time Photos (2715 MO-76 #105, Branson, MO).
Staying close to Branson Landing (100 Branson Landing Blvd., Branson, MO) lets you take advantage of the frequent free concerts on the stage near the dancing waterfalls, as well as the occasional parade. The Most Wonderful Time of the Year parade is a highlight. The closest hotel is the Hilton Promenade (3 Branson Landing Blvd., Branson, MO) which has suites with kitchens that will allow you to cook your own meals.
Seattle Southside, Washington
This neighborhood is away from the crowds of downtown Seattle and has lots to offer the road-tripping family.
If the weather is poor, spend a morning at The Museum of Flight (9404 E. Marginal Way South, Seattle) where there's lots of interactive exhibits and a 3D movie. In the afternoon, be sure to save room for the free samples at Seattle Chocolates' chocolate factory tour (1180 Andover Park West, Tukwila, WA). Or have some indoor running-around time at Virtual Sports Laser Tag (17600 West Valley Hwy., Tukwila, WA). If it's a sunny summer day, hang out on the beaches at Des Moines Beach Park (22030 Cliff Ave. South, Des Moines, WA) or Redondo Beach Pier and Boardwalk (Redondo Beach Dr. South, Des Moines, WA). There's a water spray park at Angle Lake Park (19408 International Blvd., SeaTac, WA).
For dinner, Bahama Breeze Island Grille (15700 Southcenter Parkway, Tukwila, WA) provides a beachy atmosphere with Caribbean-style dining, often with live music. A splurge weekend brunch is at Salty's Redondo Beach (28201 Redondo Beach Dr. South, Des Moines, WA).
Hot Springs, Arkansas
Hot Springs offers many free activities. Plan to spend lots of time exploring the hiking trails of Hot Springs National Park, and ask your kids to search for puffs of steam indicating a hot spring just underneath the earth's surface. At the park, you can dip your hand in fountains of warm water and fill jugs with spring water for free. Take them home and see if they provide the medicinal benefits that made so many people flock to these hot springs in centuries past. Admire the buildings along Bathhouse Row. Inside the Fordyce Bathhouse (101 Reserve St., Hot Springs, AR), there's a free museum showing how patrons long ago experienced the hot springs.
The Pancake Shop (216 Central Ave., Hot Springs, AR) will be a hit for breakfast and, during dinner, maybe you'll see Bill and Hillary Clinton at Bill's favorite restaurant, McClard's Bar-B-Q (505 Albert Pike Rd., Hot Springs, AR).
References
Writer Bio
Johanna Read is a Canadian freelance writer and photographer specializing in travel, food, and responsible tourism. Writing for a variety of Canadian and international publications, she likes to encourage travel that is culturally, economically, and environmentally sustainable. Links to all her travel stories are at www.TravelEater.net. Follow her on Twitter @TravelEater and on Instagram @TravelEaterJohanna.