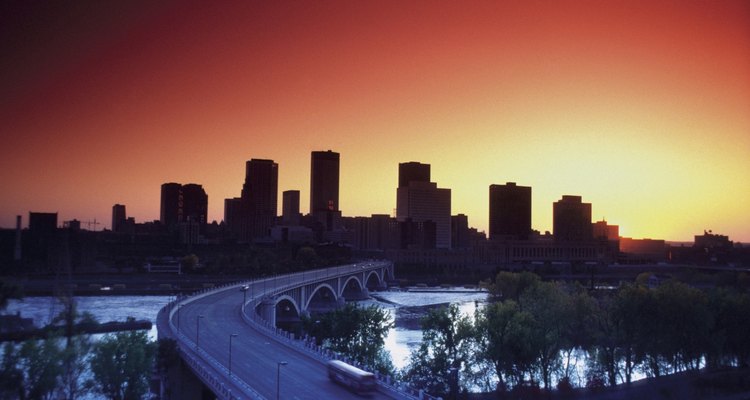 Medioimages/Photodisc/Photodisc/Getty Images
From a three-story, waterfront aquarium to a 7.3-mile trail full of gardens, parks and entertainment centers, Duluth, Minnesota offers many sightseeing opportunities and attractions concentrated in an area ideal for couples. Situated at the western end of scenic Lake Superior, this upper Midwest metropolis offers something for nearly every interest.
The "Date" Outdoors: Spring, Summer and Fall
Set a romantic mood on an old-fashioned, horse-drawn carriage ride in Duluth's Canal Park. Top Hat Carriage Service provides rides starting next to the canal and going around Lake Superior's shore, allowing you to enjoy views of the harbor. Top Hat also offers pack horses for hiking or an intimate picnic. Stroll the Duluth Lakewalk -- a path that traces Lake Superior, spanning 7.3 miles -- and stop anywhere along the way, including a movie theater, garden or park, as there are a few of each. These are all opportune moments to show physical affection -- perhaps, by holding hands -- suggests clinical psychologist Seth Meyers.
The "Date" Outdoors: Winter
Just because it's snowing outside doesn't mean you can't have fun. Spirit Mountain Adventure Park has several outdoor activities to choose from: the "Timber Twister" Alpine Coaster, the "Timber Flyer" Zip Line and snow tubing -- in addition to skiing and snowboarding. If you and your date are feeling courageous, go ice skating at the Duluth Heritage Sports Center where they host public "open skate" during the winter -- and there's bound to be a little hand holding.
Indoor Fun
Adventure Zone of Canal Park provides a lot of fun date ideas all in one building: a multilevel laser tag arena, vertical rock climbing walls, batting cages, a massive arcade and a miniature golf section with scenic backdrops for an outdoor ambiance. Choosing an interactive location allows for effortless conversation and may lead to second date arrangements, explains behavioral psychologist Jamie Bardwell. Bond over the shared experience of exploring and learning about new things together at the Great Lakes Aquarium. It's the only aquarium in the nation focused on freshwater exhibits and habitats, featuring animals and species found within the Great Lakes Basin.
Enjoying the Arts
The Duluth Playhouse is another wonderful indoor date idea. Although the two of you can't talk during the play -- house rules -- don't feel uncomfortable with the silence. Unlike the movie theater, playhouses have intermission between acts, allowing you and your date to talk about the play and time to get to know each other. Playhouses are also the perfect excuse to dress-up from your typical casual attire. For something a little more casual, the Tweed Museum of Art at the University of Minnesota Duluth is an excellent alternative. Art galleries offer conversational opportunities while enjoying the history of art.
References
Resources
Writer Bio
Kimberly Liby has been a content writer and editor since 2006, with articles in "944" magazine. She has written on a range of topics including cooking, health, current events, philosophy, psychology, career, education, writing and editing. Liby holds a Bachelor of Arts in English literature with a writing minor from Arizona State University, and a Master of Science in psychology from the University of Phoenix.
Photo Credits
Medioimages/Photodisc/Photodisc/Getty Images